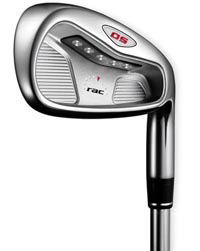 New TaylorMade rac OS iron
In the two years since TaylorMade introduced 'rac' technology several models have tempted the taste buds of club golfers, as well as the likes of Sergio Garcia and Retief Goosen.
Now, with the emergence of the new rac OS irons, its engineers claimed they have finally perfected the feel and forgiveness needed to add that final dimension to those towering, yet penetrating irons shots that amateur players crave.
An 'improved centre of gravity location on the club, says TaylorMade, also makes it easier 'to launch the ball on a high, long, straight flight.'
Channeling impact vibration to strategic areas of the clubhead, to more effectively control vibration has been what the engineers have been seeking, experimenting with the shape of 'cavity pads' and 'feel pockets' to defuse unwanted vibration through the shafts and deliver soft feel at impact.
Club golfers don't want to feel those tingling mis-hits through their fingertips and TaylorMade reckon they can prevent it.
A thinner-faced, lighter clubhead has also helped engineers more scope to re-shuffle its technology to maximise forgiveness and deliver a stronger top line and wider sole.
Shaft options include a new graphite UG65 and steel T-Step Ultralite, while all models feature the new, high-traction TGT grip.
The rac OS irons (for right or left-handers) include 2-iron to 9-iron and four wedges and the recommended price for eight irons (3-PW) set of OS irons is £499 (steel shaft) or £599 (graphite). A model for women is also available.
*Look out soon for the rac Forged TP (Tour Preferred) irons with a likely price tag of £699 for eight steel-shafted clubs – similar to those used by TaylorMade's leading tour professionals.
Some Golfmagic members have had problems with the original rac OS irons launched in September 2002. Check out what they have to say. And you can also tell us what's in your bag in our user review section.