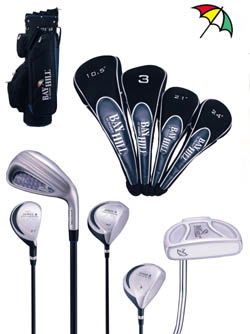 Bay Hill box set
The popularity of boxed sets of clubs – everything the new golfer needs – has been confirmed with the release of the Series X 16-piece set from BayHill by Palmer.
The clubs, complete with lightweight trolley bag with pockets and graphite friendly dividers, are available in three custom-fitted options for short, medium and tall golfers at an overall price of £199.
The stainless steel-headed irons (3-iron to pitching wedge) can be fitted to three heights of golfer: those who are under 5ft 6 ins tall (requiring lies 2-deg flat and shafts slightly shorter than standard) those who 5 ft 6in to 6 feet (standard lie and shaft) and those over 6ft (2-deg upright lie, 1-inch longer shaft). The heads are cavity-backed for a more forgiving strike and a penetrating flight.
The set also features a beta Titanium-headed 460cc driver (10.5 –deg loft), a 3-wood and two 21 and 24-degree hybrids with graphite shafts. Completing the set is a 2.5-ball putter with polymer insert.
All Series X sets are available in left and right-handed versions for men and right-handed only for women. The woods and hybrids have matching zip-up headcovers.
For your nearest stockist call 01704 894688.