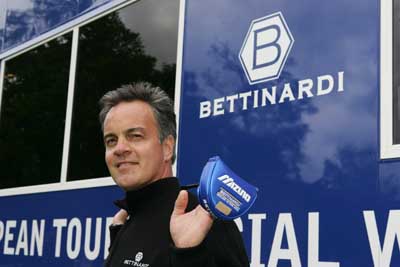 Bettinardi putters'>


Bob Bettinardi – master putter-maker for Mizuno



Breakthrough technology and Tour pro backing have made American Bob Bettinardi one of the world's hottest putter designers. Golfmagic meets the man who decided to put a honeycomb pattern on the face of his putters – and worked out a way to flatten that face to within a thousandth of an inch.
You once said: 'A putter should give you a warm and fuzzy feeling inside'. What did you mean by that?
Simply that you should be able to pick up a putter and think "Wow, I could hole some putts with this". That's based on appearance. My whole concept on putters is based on looks. I was in a pro shop the other day, and there were about 30 putters. Only two looked good to my eye. Mentally, that has to go through your head. If it looks good to you, it's probably going to feel good.
So should we choose more on looks than science?
Absolutely. Too many of us select putters based on the technology. I would like to see that reversed. People will read an article that says 'This putter has the biggest Moment of Inertia you can find.' They'll buy it without even looking at it. But you can put it down behind the ball and get no confidence from it. It could look like a brick on the end of stick.
But the technology still needs to be there.
Yes, but you don't have to compromise on style. My one-piece putter design is a good example. Most putter makers weld the putter's hosel to its head using heat. Any time you apply heat to metal you are affecting its purity, its integrity. The feel is not going to be quite there.
When I started out making putters, I questioned why we had to use welding. Why couldn't we not make head and hosel from one piece of metal? We set our hi-tech CNC (computer numerical control machinery to work on a single block of carbon steel, effectively sculpting head and hosel from it. When we tested the result, there was such a huge difference in feel and solidness of strike. So now all our putters are one-piece head and hosel. The technology is there, but it doesn't affect the looks of the putter.
Who uses your putters?
Currently, Nick Price, Bill Andrade, Lee Janzen, Bob Tway, Charles Howell III, Rocco Mediate and Olin Browne are using Bettinardi models. Jim Furyk used one to win 2003 US Open and Vijay Singh followed suit at the 2004 US PGA.
My putters have been used for 40 Tour wins; Phil Mickelson has used one to win at the Colonial, while Luke Donald has used one on-and-off for the past eight years.
What are the principles behind your putter designs?
Precision, performance and excellence. My background is mechanical engineering. That world is all about high tolerances, quality and precision. I simply transferred those values into building my putters.
How did you get in to creating putters?
In 1990, before I designed any putters, I ran my own metal manufacturing business. I had a mechanical engineering degree, and had also learned about metals from my dad, who made small metal products for several industries.
One day I saw a poster for a Callaway putter in a pro shop. It showed this picture of an ancient milling machine. I found myself asking: 'Why would they make that putter with this old machine? Why wouldn't they make it with the modern machines that we have?'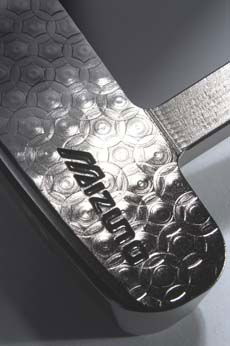 One-piece head and hosel and distinctive milled face




At this time, in my factory we were using high tolerance CNC (Computer Numerical Control) milling machines – huge, powerful and precise – that cost around $350,000 a piece. They carve and sculpt metal using motors and computerised equipment. Maybe Callaway just didn't know this new technology was available. I spoke to R&D (research and development) departments at Cleveland and Callaway and convinced them to let me build them a putter. It took us three months to do it but they loved the end product.

How did you get Bettinardi putters on the map?

Jesper Parnevik helped a lot here. In our first week out on Tour, at Greensboro in 1999, Jesper asked if he could use one of our putters. He won, shooting 23 under par, with 99 putts for four rounds. He then won the Bob Hope Classic, shooting 27 under. That gave me the credibility for Bettinardi putters. When you have players who win with your product, that's the stepping stone.

Why is there a honeycomb pattern on your putterfaces?The pattern comes from the unique way the putter's face is milled. We discovered that running the mill horizontally across the face caused a little bit of a concaveness, a dishing effect. So we played around with alternative milling techniques, eventually applying the cutting mill ends vertically from above like a sewing machine needle. It sounds odd, but we got the face flat to within .001 of an inch - a 200 per-cent improvement on existing putters. The honeycomb effect was a by-product of this milling technique. I didn't care what the face looked like. I just wanted it flat.

Why did you decide to team up with Mizuno to make your latest putters?

Our mindset is the same; there is an emphasis on quality and precision. Plus we are both manufacturers, designing and building our own products. I believe my products fit in well with Mizuno's brand values.

What is the inspiration behind your new ranges of Bettinardi Mizuno putters, which will be launched just before The Open Championship at Hoylake?

We wanted to present golfers with a clear choice. So we have the A series – two mallet headed putters made from aluminium – and the C series, carbon steel, heel-toe weighted designs.

The A series has more game improvement features. There is a sight line, as an alignment aid; the weight is back from the face, which stops it twisting on off-centre hits; and the blade is face-balanced, promoting squareness.

The C series has more of a classic look. The feel is still soft, yet the metal gives the ball a solid click sound off the face. There are three head styles, each with a satin pearl finish.

What does the H mean on the bottom?

It stands for Heavy. The putters come in two lengths, 34 and 35- inch. The shorter putter being 10 grams heavier to keep the overall swingweight up.

Where do you do the Research and Development into your putters?

I have a hi-tech facility in Illinois called Studio B. It is staffed by 60 technicians and has a 100ft putting green. We've installed a four-camera laser vision system, which sends 200 frames per second to a 40-inch plasma screen. We can watch in minute detail what happens when the ball leaves the putterface.

What else do you make besides putters?

I make products for the dental industry, but more interestingly I make the casings for the 'brain' of a smart bomb. We use a very strong grade of stainless steel – and the design must meet very tight tolerances.

Finally, what's the strangest putter you've been asked to make?

Rocco Mediate once had me use sterling silver for a face insert. He wanted a different feel off the putter face. He said 'I don't care what it costs, just make it'. I charged him $3000. Unfortunately the face felt just like aluminium. I could have given him the same feel for 300 bucks. He hasn't used it for a year now.

*Tell us about putter in your bag - as well as the balls, driver, irons, shoes and waterproofs – by submitting a user review. Every month we give away prizes for the best submissions.

Golfmagic has over 3,000 items of equipment reviewed within its system, many of which golfers use to consider their purchases. Most, too, can be bought from our shopping partners, which are listed on the left-hand side of every page.