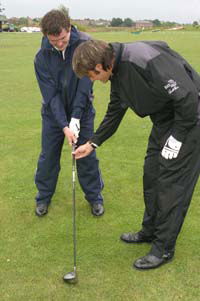 Bay Hill's waterproofs
Bay Hill Arnold Palmer
dips its toes into a new area of golfwear this autumn with a range of rain suits for under £100.
Its Aqua-Flow Pro (£99) is a lightweight rainsuit made from the Whispaflex waterproof fabric that 'breathes and stretches' and has elasticised shoulders and waist for extra comfort and make it easier to swing in the wet.
The suits also have an AquaFlow system on the cuffs to prevent water running off the sleeves on to the glove and effect the grip of the golf club.
Waterproof zips on the jacket, the trouser fly and the leg cuffs offer extra protection to keep the suit as watertight as possible. Colour choices are navy/grey and black/grey. The Aqua Flow Pro also has a two-year warranty.
The Aqua-Pro Tech suit (£59) is lightweight and breathable and is elasticised in the waist and shoulders. It also has zipped trouser cuffs, waterproof zips on the jacket and trouser fly, has a one-year warranty and is available in black/stone.