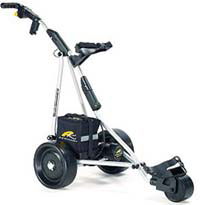 PowaKaddy Freeway Titanium electric trolley
Alastair Herold (37) from Bridgwater in Somerset claims the PowaKaddy Freeway Titanium electric trolley he bought is 'the best golf investment he has ever made.'
A ten handicap member at Cannington golf course he told us in his August user review: "It's a great piece of kit and a very sound investment. When I get tired during my round it helps me concentrate on my golf shots and makes a difficult game easier."
"I feel much fresher towards the end of my rounds," says Alastair, a carpenter, who's studying to add plumbing to his professional qualifications. He also revealed that the course where he plays comes highly recommended. It is 12 years old and set in beautiful countryside and is maintained by students studying to be greenkeepers at Cannington college.
He adds: "I try to play once a week and I would love to put more time into it but my short game gets me out of jail regularly. When I get it down to single figures I will be a happy bunny!"
He's one of three winners of a dozen Srixon Soft Feel golf balls, courtesy of County Golf Direct.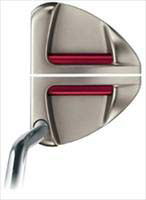 Distinctive Mezza Monza putter
Another is 14-year-old schoolboy James Warwood from Wrexham, who helps pay for his golf with a paper round. "The pay's good and you've got to start somewhere," he says.
James who admits he's a reluctant bandit playing off an 18 handicap at Clay's Farm and Padeswood & Buckley Golf courses, told us about his TaylorMade Rossa Mezza monza putter, which he says 'works like magic!'
"It's a great putter and since the day I got it, I knew it was special. I got used to the feel of it very quickly, and even holed a 40-footeron the first evening. I also holed a 94-foot putt (my partner paced it out) in a competition recently," says James, who also reviewed his TaylorMade V-steel fairway metals, which he described as having 'great feel, sound and looks.'
Completing our trio of user-review winners is Mark Partner from Basingstoke, Hants, who claimed the 21-degree Howson GBH Attacker utility club he bought cheaply helped shave 10 shots off his score.
"This club makes hitting far off the fairway a doddle," says Mark (35), a software engineer who took up golf in April. "Clean strikes are much easier than they are for a 3- or 4-iron. And the ball flies high and straight... even for a high handicapper like me."
He mostly plays at Milford Golf Club in Surrey but says he only played his first round in July.
"So far I have been attempting to get consistent with the basics and I feel I am making a lot of progress," he adds.
*Tell us about the equipment in your bag - clubs, shoes, balls waterproofs – by submitting a user review during September. You could win one of the packs of a dozen Srixon soft-feel balls we're giving away every month.
And if you've got equipment to buy or sell second hand you can do that too, in our popular classified section.
Ram/Stuburt winners

Winners of sets of Ram FX9 fairway metals in our June/July competition were George Campbell from Watton-at-Stone, Hertfordshire and Terry Connolly from woking in Surrey.

The following also receive a pair of the latest Stuburt E-Lite shoes: Neil Harvey (Moreton, Wirrall), Colin Sibthorpe (Swindon, Wilts), Maria Newman (Ringwood, Hants), Anne Brownie (Edinburgh) and Robin Hill (Horwich, Bolton).
August join prize winner

Steve Graham, a 37-year-old development director for a company developing software for the construction industry, has just re-discovered golf after several years and is immediately hooked.

The winner of our August join prize of a Cobra carry bag admits to having risen at 5.30am twice already this week to play nine holes at his local Polkemmet course, near Livingston before heading for the office!

"I played golf as a teenager and later was a member of Polmont Golf Club before working in Germany, Belgium, Hong Kong, Holland, Switzerland," he revealed.

"Pressure of work and other interests led to me dropping the game for few years but recently my wife and nine year old son decided they'd like to take up the game and that got me playing again. As well as my early starts I've been practising at a local driving range most lunchtimes."