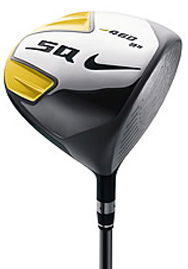 Nike SasQuatch driver
In America they call it 'Big Foot'; in the rest of the world it's known as the 'Yeti' and so far it's still a fictional beast that roams remote forest and mountain regions.
However, in Canada and Alaska, the native Indians and Eskimos refer to it as the SasQuatch – half man, half bear with huge fury feet.
Now Nike has nicked the name and given it to its latest driver, which has already left traces of it big yellow footprint on the PGA Tour and is now heading for Europe.
The Nike SasQuatch (SQ) 460 driver with its distinctive head and yellow sole has been spotted on the range and practice fairways in the hands of Stewart Cink, K J Choi, Rory Sabbatini and Swede Carl Petterssen.
According to Nike: "It's unique, it's powerful and has new Max Back geometry. Designed by Tom Stites, the SasQuatch is reported to push the breadth-to-face length ratio up, to create a larger, more forgiving sweet spot. With its centre of gravity set back, low and deep, the SasQuatch is reckoned to have more forgiveness, less twisting at impact and more accuracy, as the new shape helps square the face at impact.
Higher launch angle, lower spin on balls and longer distance are also part of its armoury, according to Nike.
Its Powerbow technology is also said to apply more power and control to the ball without overstepping the 460cc legal limit, while the tightly compressed NexTi titanium face is thinner, stronger and lighter than conventional titanium.
The club will be available in Europe next February in a range of lofts from 9.5 to 'Lucky' 13. Prices will range from £249 to £279, depending on the required shaft.
A stiffer-shafted SasQuatch Tour 460 version, will also become available in lofts from 8.5 to 10.5 from £279 to £399.