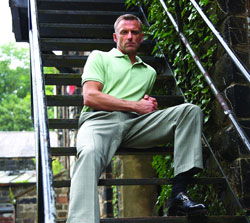 Stylish Jimmy Bruer Collection trousers from Dwyers and Co.
  It's a strange move for your golf achievements to be commemorated in a pair of trousers but that's just what has happened to the late and legendary Jimmy Bruen with the launch of a collection by the Cork clothing brand of Dwyers and Co.
Bruen, a fine amateur player whose career was cut short by injury and the intervention of the Second World War, was reputedly one of the greatest players ever to come out of Ireland and was famed for his dapper clothing and a distinctive looping swing.
"Quality never goes out of fashion," says Grahame Jenkins, managing director of PGB the owners of Dwyers & Co, explaining why Bruen has been honoured in such a novel way.
"His unique style, his dapper attire on the course, a mystical, looping swing, and his inspired play, that was literally years ahead of its time, has led him to becoming a true legend of the game."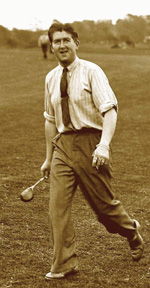 Jimmy Bruen in his hey-day




And he says the collection reflects all of these qualities in its fabrics, detailed finish and stylish tailoring, combined with traditional colour designs, plaids and stripes.

How Bruen burst onto the scene is reminiscent of the arrival of Ireland's latest super- hero Rory McIlroy. Indeed Bruen had a similar crop of wavy dark curls.

He won the British Boys' Championship at Royal Birkdale, aged 16, and his course record 66 at Royal County Down still stands today. His performance at the Walker Cup at St Andrews in 1938 is universally described as inspirational. No one thought that the event would result in anything other than a comprehensive tenth successive American victory. Bruen had other ideas.

With his partner Harry Bentley, they were three down at lunch in the foursomes but their remarkable four under par afternoon round secured a half that inspired the GB&I Team on to a rare 7-4 victory. Bruen also broke the American hold on the British Amateur Championship in 1946.

His swing has been preserved in a unique film clip on You Tube. For further information on Dwers and Co products visit www.dwyersandco.com.