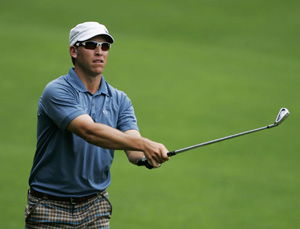 Ricky Barnes in action at Bethpage Park
  One company hoping to re-establish itself as a brand making clubs for better players, is Wilson Staff and with Ricky Barnes' performance in the US Open, believes their irons have made a big impression.
The Bethpage runner-up, who set a US open record only recently signed for Wilson Staff but used the new FG Tour Forged irons, which the company claims go back to heritage of clubs for top players, but offer more forgiveness than traditional forged clubs.
They are the result of nearly 18 months of development and Tour testing as Wilson Staff moves away from an image of solely producing game improvement equipment.
Commented Jon Perganda, Wilson's research and development chief: "Two years ago we came out with the forged muscleback FG59, typical of the classic Wilson Staff muscle blades of 15 or 20 years ago. But the modern game and the modern player needs something bigger and with more forgiveness than that those tiny little musclebacks could provide."
So they created two different prototypes to get something more contemporary and playable, with the FG Tour forged cavity backs featuring moderate offset, a slightly rounded leading edge and a thinner, more appealing top line the pro.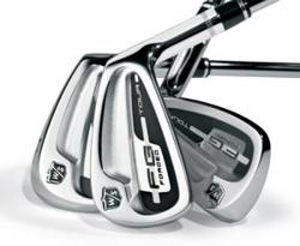 FG Tour forged irons




And with Tour players like Barnes, who are bigger and stronger hitters than their predecessors, they need forgiveness for the longer distances they're hitting their irons.

"When hitting just 6- and 7-irons between 190 and 200 yards, you need to have a little forgiveness in those clubs while still allowing technology for shot-making, " says Perganda. "Ricky Barnes is the perfect fit - he's young and has that pedigree of the US Amateur champion. He's shown there's talent there and he brings that youthful image as well as a strength and power game to the Wilson Staff name that people recognise."

However, the not so good news for the Wilson Staff brand was that its main man - triple major champion Padraig Harrington - was reportedly using a Callaway driver in a bid to re-discover his length and accuracy off the tee with the Open Championship looming.