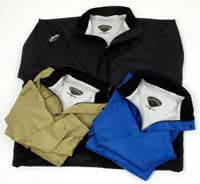 Callaway Pro Series waterproofs
Just as the sun comes out after a period of almost incessant rain – in England and Wales at least – Callaway announces the launch of a new waterproof suit range!
Callaway says its Pro-Series ultra light waterproof clothing is so advanced it has a weather-forecasting gadget tucked up every sleeve!
Only kidding, but the makers claim the trousers and jacket – total cost £150 – weigh less than most rain jackets from their competitors…just over 600 grams, ensuring less to carry when stuffed into your golf bag.
Designed in Scotland and tested worldwide by its Tour players, Callaway adds that the range – which also includes a zip jacket, half-sleeve pullover top and matching trousers are ultra-lightweight, ultra-breathable, 100 per-cent waterproof and guaranteed for two years.
Tops are available in three colours (black, blue and tiff) and the trousers are available in black only. All products are available in sizes small to double extra large.
For your nearest stockist call 08701 666555.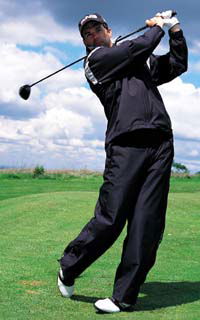 Ping Tour II suit
Hot on the heels of Callaway's new waterproof offerings, Ping is launching its 'improved' rain suit, the Ping Tour II, which its tournament players have been testing around the world.
Jackets have been adapted to include zip off sleeves, while collars have been redesigned to allow more movement. The latest rainsuit also features the Ping Collection's Function 3 Dynamics weather shielding system.
The Tour II jacket will be available in sizes S-XXL in a choice of either black/grey or pebble/black to compliment the black trousers (three length fittings from 29-33 inches). Recommended price for the suit is £200 (£120 for the jacket only)
For your nearest stockist call 0161 492 2400.