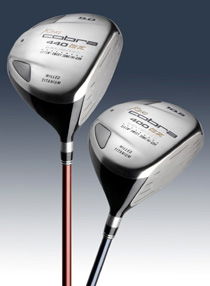 Cobra SZ440 and SZ400 drivers
Heading our way in January are a new family of drivers and fairway metals from Cobra - basking in the reflected success of the King Cobra SS370 and SS430 Unlimited drivers.
Now the St Ives-based club-makers are introducing 'Sweet Zone' technology with the launch of the Cobra SZ440 Unlimited for 'out and out distance' and the slightly smaller head of Cobra SZ400 Unlimited to promote 'control as well as distance'.
The SZ440 is an oversize titanium driver with a revolutionary plasma weld construction offering even more forgiveness across a '9-point Sweet Zone'. A deep centre of gravity is set to give a higher launch angle for greater carry and roll. The slightly closed face angle and lighter shaft are set up to promote a draw.
The SZ400 has a smaller head and features less face angle and a slightly heavier shaft to promote control as well as distance. Both will be available in right and left-hand versions (in 7.5, 9 and 10.5-degree lofts) and will cost £269.
Cobra will also introduce women and senior models with lightweight shafts, designed to attract slower swingers. The King Cobra SZ355 Offset women's driver (13.5 deg) and King Cobra SZ400 Offset Senior driver (11 deg) incorporate closed, offset head designs to deliver maximum forgiveness, strong left bias and optimum carry and distance. Price will also be £269.
Easy-to-hit fairway metals to compliment the drivers, will cost £155. King Cobra SZ fairways are available in 13, 15.5, 18 and 21-degree options with a 9-wood (24-deg) as a custom order only. There will be left-handed 3-, 5- and 7-woods and 3-, 5-, 7- and 9-woods in women's and senior offset options.
For your nearest dealer call 01480 301114.