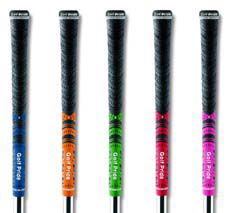 Distinctive grips by Golf Pride
Golf Pride, the best known grips in golf, aims to add to individuality to the game by introducing some distinctive new colours.
The New Decade MultiCompound grips were originally available in only red and black but such has been the demand for modern golfers to be different, the company has introduced blue, shamrock green, orange and hot pink combinations with traditional black.
Says Paul Steels, UK and European director of operations for Eaton Ltd, makers of Golf Pride grips: "Golf clubs are now much more colourful than they used to be and the introduction of the new colour choices will enable our customers to fit New Decade MultiCompound grips to match their shafts."
The grip fuses rubber and cord for feel black Velvet Cord in the upper hand and coloured soft rubber in the lower hand to provide firm all-weather control. The grips will be available from September 2006.