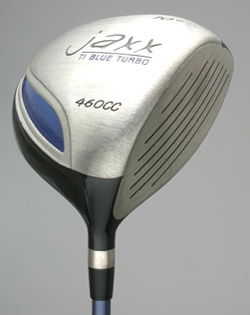 Jaxx Golf driver'>


Jaxx Golf Blue Ti Turbo driver



Jaxx Golf, based in Manchester, is fast-emerging as a new kid on the block in terms of golf equipment but with a long history of experience within the trade.
The company offers a full range of clubs and bags, primarily aimed at a new breed of young golfer looking for affordable quality and wanting to make an immediate impact.
Its new 460cc Blue Ti Turbo driver incorporates much of the latest in golf technology - with a 'hot' super-thin beta-titanium face to deliver the power a low, deep centre of gravity for soaring trajectory and a forgiving graphite shaft.' Cost is £79.
The company's JT500 series irons are also proving popular, made with the same attention to detail and available in a set for £149.
Managing director Phil Aitken, who launched the brand in Europe at the annual Munich Show in 2002, has assembled a dedicated staff around him, including Mike Turner, formerly Hippo's UK sales manager and PGA pro Gary Norcott, who worked on TaylorMade's advisory board.
"Together we have decades of experience," said Phil, the third generation in his family to work in the golf trade. His father launched Northern Golf and his grandfather started one of the UK's first golf distributorships, Alf Owen Sports, in the 1960s, which included the Powerbilt brand.

How appropriate then that this week Phil should announce the recapture of the Powerbilt UK distributorship, alongside Jaxx's other brands of Izzo, Adams and Hot Blade.

"Powerbilt has a full range of clubs, for adults and juniors, for both beginners and more experienced players," says Phil, who aims to launch the new ranges shortly.

"It's a perfect partnership," said Larry Edlin, Vice-President of PowerBilt. "With our heritage and proven track record, and Jaxx Golf's distribution network, we're really excited about building the brand in the UK."