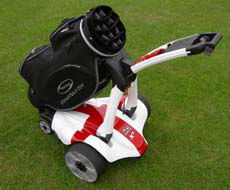 Stewart Golf's customised trolley
If England's footballers can bring home the World Cup, expect to see a massive increase in the visibility of the red cross of St George, currently fluttering as flags from seemingly every other car and van window.
Even the conservative golfer may be tempted to show his passion and support by bearing a red and white bag or set of head covers.
Stewart Golf in Gloucestershire, meanwhile is hoping that golfers may wish to make the ultimate gesture by buying one of its latest X3 electric trolleys emblazoned in the national colours.
Says Mark Stewart, marketing director of Stewart Golf: "We received a request from a customer to create a special St George's Cross version of the X3 after he heard that we were offering a customised service. In fact many of the England team are avid golfers and I know they'll love this version."
Several Premiership footballers, including Newcastle's Scott Parker, are already X3 owners as well as, TV pundit Ian Wright, Soccer AM's Tim Lovejoy and Radio One's DJ Spoony, who has a customised Liverpool FC version.
The new custom design service will costs anywhere from £250 on top of the recommended price for the X3 range of £649 (manual) or £999 (remote).