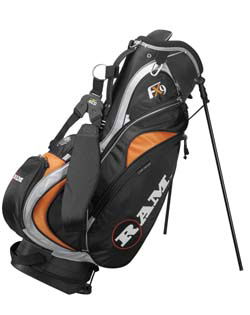 Distinctive Ram FX9 bag
With travel on the minds of many holidaying golfers, Ram Golf has unveiled an impressive FX9 stand bag and Wizard Evolution travel cover to complement the recent launch of its FX9 range of clubs.
The distinctive bag has a durable modern design with nine-inch wide top and Izzo Comfort Swivel dual strap carry system distributing weight evenly across the player's shoulders.
Six easy-access zip pockets provide generous storage space with a lined dry pocket for valuables, full length pocket for waterproofs and an insulated drinks cooler pouch. It has a six-way divider system and graphite friendly top. A stand mechanism, hood and brolly holder is integrated into the design.
Available in black/blue, black/orange and black/burgundy, the FX9 stand bag has a recommended price of £59.99.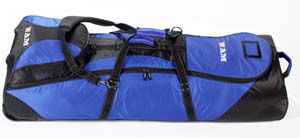 Wizard travel cover




The robust Wizard Evolution travel cover (RRP £49.99) has been designed to accommodate most stand or cart bags up to 10 inches wide and is made from high density rip stop nylon for strength and durability.

A sturdy base incorporates a pair of in-line skates, generous upper padding gives extra clubhead protection, while a front pocket provides space for shoes. Colour is blue/black.

*Tell us about your bag and travel cover - as well as your clubs, balls, shoes and waterproofs – by submitting a user review. we give prizes for the best reviews every month.

Golfmagic has over 3,000 items of equipment reviewed within its system, many of which golfers use to consider their purchases. Most, too, can be bought from our shopping partners, which are listed on the left-hand side of every page.