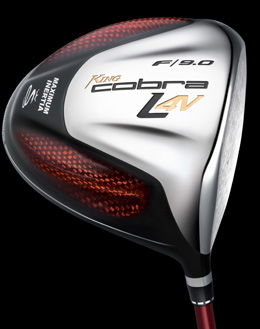 Street legal: King Cobra L4V driver




A pal of mine is still using his beloved four-year-old King Cobra SS 430 Unlimited driver, hoping to slip under the radar when new R&A regulations make this and many other non-conforming drivers, illegal for club competitions from January 1, 2008.

Despite crushing it past most of his playing partners, who have already switched to conforming drivers, he thinks no one will notice he's still using 'trampoline effect' technology, outlawed from the end of December, despite its illegality being threatened two years ago.

News of outlawed equipment still being used at most courses, travels faster than a Greek forest fire!

I've suggested he might like to consider a number of options I spotted this week at the Golf Europe trade show in Germany, including the latest King Cobra L4V driver, which claims to push four R&A performance limits to the edge of illegality.

Renowned for delivering massive sweetspots, forgiveness and distance, Cobra has introduced a carbon composite crown and sole section and tungsten back-weighting in its L4V which will be available in X, F and M models, each speed tuned to the golfer's ball speed 'for maximum distance and accuracy.'

The L4V (recommended priced £296) is not due for launch until Spring 2008 in the UK but a limited number will be available through selected Cobra stockists from November.

Another option are two new drivers from Benross, who, rather than follow the copy cat approach in square drivers elected to develop the Innovator (£129) and the VeloCT (£99.99).

The Innovator( above left) features an arch-shaped head to help resistance to twisting of the face from off-centre hits and a trajectory control system (TCS) of various interchangeable weights. Complete with milled face, its available in 10, 12 and Max 14-degree lofts with stiff, regular or lite shaft in right hand only.

The lightweight, pear-shaped Velo CT driver (above right) incorporates thin crown technology (CT) to create a low centre of gravity for high launch and a milled face for consistency. ultimate consistency. Loft options at 10-, 12- and Max 14-degrees for right-handers and a Max 14 for lefties with stiff, regular, lite or ladies shaft options.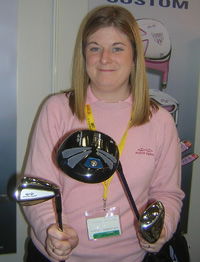 Snake Eyes' marketing manager Emma Di-Carlo with the company's latest products, including the new Viper driver




The Snake Eyes brand, based in St Ives, Cambridgeshire, has always been associated with high quality custom-fitted wedges used by many Tour players but is fast gaining a reputation for other hardwear, including its latest sinister-looking Viper Ti 460 Tour driver. With its black shaft and black plasma head its looks the kind of driver Darth Vader would use on a galactic golf course.

As well as three interchangeable weights to find the most suitable trajectory its features a tactile, black Aldila NV Pured shaft all for £199, with four shafts options between 9 and 12.5 degree.

MD Golf, from Northern Ireland has a strong following either side of the Irish Sea and continue to deliver good quality products for golfers who don't have deep pockets.

Its latest driver - Superstrong EQL Ti460 will be available in traditional, square and offset models, with 9.5-, 10.5- or 12.5-degree lofts with a choice of Proforce V2 or Proforce 65 Tip Active graphite shafts. Price for all models is £99.