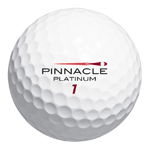 New-look Platinum distance ball.
Pinnacle Golf will replace its popular Exception balls with Feel and Distance products in January.
The Platinum Feel ball, says manufacturers Acushnet, who also make the top-selling Titleist ProV1 and Pro V1x, is designed for golfers seeking soft feel and high performance control with a high initial velocity. A new coverage of 332 Icosahedral dimples helps provide consistent ball flight, with an alignment stamp promoting putting accuracy.
The new Platinum Distance offers a 'htter-off-the face' companion with its high velocity core, resilient lower spin cover and new dimple design.
Recommended price for both models is £4 for a sleeve of three balls.
*What golf balls are YOU using? Submit auser review for the chance to win prizes every month. We also want to know about the clubs you play with, and the shoes and waterproofs you wear.
And if you've got equipment to buy or sell second hand you can do that too, in our popularclassified section.