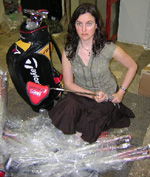 Trading Standards officer at the raid on property where fake Odyssey and TaylorMade putters were found
A Maidenhead businesswoman who pleaded guilty in June at Reading Crown Court to a charge of conspiracy to defraud proprietors of registered trademarks, has been sentenced to nine months imprisonment, suspended for two years, as well as 200 hours commmunity service.
Her husband also pleaded guilty to two offences under the Trade Marks Act 1994 and must also perform compulsory unpaid work (two orders of 40 hours, to run concurrently) as a result of his sales of more than 70 counterfeit Odyssey putters.
The case against Lucia Ferrazzano and Steven Pygall was brought by the Royal Borough of Windsor & Maidenhead Trading Standards office after a local club professional complained to Callaway Golf (which produces the Odyssey brand) that golf clubs he had purchased from the couple in Berkshire via an Internet auction site were counterfeit. 
Callaway Golf sought the assistance of Trading Standards, which launched an investigation, confirming the counterfeiting allegation.  On May 4, 2006, Trading Standards officers, assisted by local police, raided the couple's home and seized more than 80 counterfeit golf clubs (including some from purporting to be made by TaylorMade), counterfeit jewelry and clothing, and business records confirming that most of the counterfeit goods originated in China.
Neil Howie, managing director of Callaway Golf, Europe, praised police and Trading Standards officers for putting the counterfeit operation out of business. 
"The defendants had made more than £30,000 when Trading Standards closed the door on their operation, and were on their way to greater earnings" said Howie. "All of it was obtained by victimising our company and honest consumers.  
"Counterfeit golf clubs are rampant on internet auction sites but the best protection for consumers is to purchase from Callaway Golf's preferred retailers, who are listed on the Company's website." 
Tell us on the forum if you've been caught out by counterfeiters on ebay or otherwise.