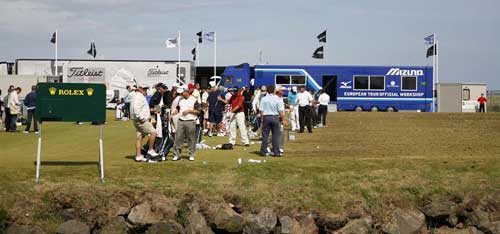 Lots of activity on the Carnoustie range this week
Colin Montgomerie's return to the winner's circle at the European Open in Ireland and improved form in time for this week's Open Championship at Carnoustie, may well have been more to do with a chat he had in the Mizuno trailer which parks on the edge of the practice ground at every event, than his switch back to a belly putter.
Chatting to the Mizuno engineers recently and armed with a bunch of putters (he's contracted to Yonex but they don't have a workshop on Tour) he asked for some advice.
Revealed one Mizuno engineer: "It's the first time we've ever done any work with him with putters. It was very interesting because we didn't know he uses seven to eight degrees loft on his putters, which is a hell of a lot more than a normal putter (three and five degrees). We tweaked his putters, searching for something that was going to give him a slightly different feel to help him roll a few in.?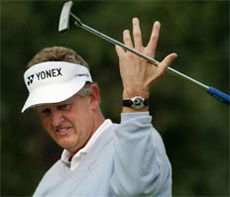 Monty: Frustration with his putters




"The problem with establishing seven or eight degrees on a putter is that it tends to close the face, hooking it in because of the sole angle. So you have to grind the sole. Or, if it was at factory stage, mill the sole to get it square at address. A lot of his putters were hand-ground to try and sit them back to square. Some of his putters were still sitting a bit closed. Monty said that his bad putt was one that he misses mainly on the left - not surprising, considering his putters are aiming a little bit left!?

"So we did a little bit of work and ordered up a Bettinardi for him. He picked one up that he liked the look of but we couldn't quite get it to sit square with the loft required, so we had one made up for him in the US at Bettinardi's factory in time for the US Open. It didn't make it into his bag for contractual reasons in the end. But it was quite interesting to work with an eight-time order of merit winner, on a specification that is very different to the norm. Hopefully we've spotted something that might help him."

At Carnoustie, with the world's best players in action, almost every manufacturer has a presence alongside the practice ground and that means getting the players tooled up to compete in conditions they rarely face but once a year - at The Open.

And that will inevitably chiefly effect the metal woods - the driver, fairway metals and hybrids - which will demand a lower, more penetrating ball flight, as the wind whips off the North Sea, to help keep their golf ball under control.

Expect many to have their driver tweaked to a straighter as little as seven degrees and the shaft stiffened to help deliver a flight that bores through the wind, especially when it's blowing left to right against their normal shape of shot.

Despite the deluge of rain we've suffered in the UK in recent weeks, the 15-degree lofts on most players' 3-woods are unlikely to be suitable so this week they will be considering 3+ woods with maybe 13 degrees, to get the ball pitching and running up to Carnoustie's longer par-4s and its two par-5s (the 6th and 14th).

Indeed Tiger Woods was revealing this week that at the 14th (The Spectacles) his third shot to the green was a 4-iron and still finished short of the green!

Apart from Tiger, who used his 2-iron to great effect around dry, fast-running Hoylake last year, most will include at least one hybrid/rescue club in their bag. As local caddies have explained to Golfmagic, with its 16-19 degrees of loft, it's going to be a useful positional club off the tee.

Listen very carefully during the evening at the Carnoustie range and you'll hear a lot of grinding sounds from the Tour caravans parked there. On links courses, with the fairways tight and firm, bounce on a blade is a recipe for disaster. Unlike the US Tour courses and inland layouts where many European Tour events are played around the world, there's little give in the ground here so Tour pros want a club that's designed to nip the ball off the surface and that means grinding a little off the sole.

On the contrary, Tour sand wedges (usually around 56 degrees) will have more bounce to enable them to handle the soft seaside sand in the bunkers, while the 52 and 60 or even 64 degree wedges will be sharpened at the leading to help slice through the rough or nip the ball off the turf for maximum spin.

The player who wins this week will have made the most of his equipment, while those who don't can hardly blame their tools!