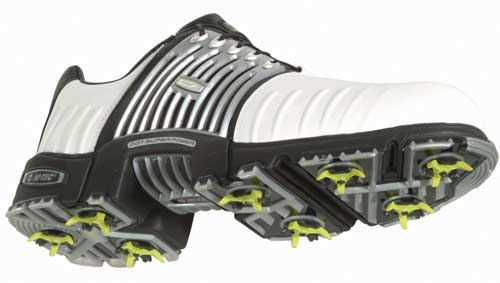 Chance to win Harrington's 'power' shoes
With his jaunty stride wearing a pair of Hi-Tec shoes, Padraig Harrington marched into the history books at Carnoustie to claim the first Open title by a golfer from the Republic of Ireland.
It was also the first time a European had landed a major championship success for eight years and came as a climax to one of the best Opens in living memory.
And to celebrate the occasion, in association with Golfmagic, Hi-Tec is giving away FIVE pairs of the Hi-Tec CDT Super Power Tour shoes that Harrington has developed and which, he says, has helped him add extra yards to his driving because of their revolutionary sole and softspike design delivering extra grip through impact.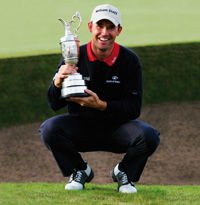 Harrington celebrates, wearing his power shoes




Described as golf's only 'game improvement shoes', their innovative features include a two- piece sole unit and 'power chassis' to keep your feet under control and stabilised and an enlarged sole and unique cleats to help grip at impact.

Says Harrington: "They allow my feet to move but give me more stability."

What you have to do to win

For a chance to win we're asking for your experiences of 'putting your foot in it' - literally! So many of us often open our mouths without engaging our brains and it seems it's a skill with which golfers are particularly adept.

There are times where we'd wish the ground would open up and swallow us - when we've said or done something which has caused acute embarrassment either to ourselves or our colleagues.

We want you to share your red-faced moments on the forum for the chance to win a pair of Hi-Tec CDT Power shoes as worn by Padraig Harrington (sizes 6-13 - including half sizes in white/black/silver) and worth £100.

We look forward to hearing from you.