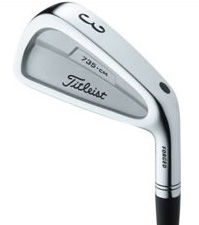 Titleist's forged 735CM 3-iron
Titleist revealed its latest forged 735 CM irons, at the Golf Europe trade show in Munich this week. They are distinguished by a curved design creating 'a seamless transition from long to short irons which guarantees high performance with all clubs in the set,' says Titleist.
The cavity-back design starts in the 2- to 4-iron and progresses through the mid-irons, to improve playability and shaping of shots to find difficult flag positions. A Muscle-Back design in the short iron allows experienced players to control spin and trajectory for pitching and shots around the green.
Sonartec, meanwhile launched a range of fairway metals and hybrids, already successful in the USA, now coming to Europe.
A 'driving cavity' claims to increase energy transfer resulting in longer and straighter drives. Also new will be its Voit Big Easy Hybrid driver is a cross-breed between a fairway wood and driver with a shorter shaft and more loft.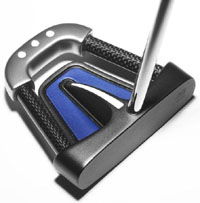 Mizuno Draino putter




Mizuno has already revealed its MX-500 driver, MX-900 irons and F-50 fairway metals and took the opprtunity in Munich to launch its Draino putter, which separates a light aluminium putter face and heavy steel back weight, using a weightless graphite tube. The makers claim it creates deep centre of gravity and resistance to twisting on off-centre strikes. It will be available from January.

Says Mizuno's chief designer David Llwelyn: "Mizuno has been absent from the putter market for many years and we wanted to return with an innovative and functional design. Draino might shock some of the traditionalists, but it's a sign of the technology you can expect to see from Mizuno." The club has a forged milled face and adouble bend shaft to improve set-up and roll.

Honma with its reputation for hand-made, premium-priced, state of the art equipment, introduced its Space Voyager putter. Made of aluminium, with a bronze insert for soft feel and sound, the putter will be available in Mars red, Earth blue and galaxy black with a ranged of coloured grips to match the head.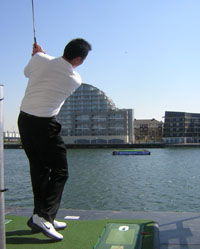 Jeremy Paulson from the Thai Tourist Board goes for the green
At the planned consumer show in London next April, more than 100 exhibitors have already signed up. The ExCel centre in the city's Docklands will again stage the London Golf Show from April 27-30, the recent support providing a major boost to organisers who have vowed to make it 'even better'.
The show's marketing director Andy Barwell said: "We are delighted with such a great early response from our exhibitors. The show will be packed with a great innovations and informative, fun and interactive stands.
Among new features are multiple floating greens moored in the Victoria Dock, while the 'try before you buy' programme in conjunction with Direct Golf UK will be even bigger.