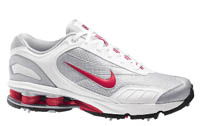 Nike Golf Shox
As golf tries desperately to attract a younger audience with its junior schemes and introductory equipment, traditional golf shoe makers are making similar efforts to gain 'street cred' with their athletic-style designs.
Hi-Tec were among those in the vanguard with their V-Lite Extreme and Typhoon models, now Nike is using the Shox technology in its running footwear to gain a toe hold in the young golfers market.
Nike says it Golf Shox range 'brings golfers the same cushioning and responsive technology that has been giving runners a superior ride.'
The makers claim the innovative 'column and plate design' is similar to a spring and on heel impact, the column compresses and shock forces are distributed across the plate. When the columns return to their natural shape, the result is forward propulsion and an energy feedback that leaves legs less fatigued.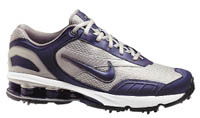 Blue version




A Sympatex waterproof lining helps keep the foot dry and the synthetic leather/mesh exterior aids breathability, says Nike. It also features Nike's T@C (Traction at Contact) rubber outsoles Scorpion Stinger spikes with Q-LOK fastenings maintain grip.

It remains to be seen whether these shoes, with the technology developed for runners and costing £110 from January, will help speed up play.