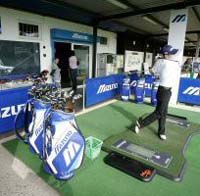 Mizuno's latest fitting centre
Mizuno has launched an extension to its public testing service with the opening of its first English fitting centre, near Leatherhead in Surrey. The company's Scottish centre in Cumbernauld, has almost been fully booked since it opened in April last year.
Based at Pachesham Park Golf Centre, (off the A244, J9 of the M25), the new centre will be open seven days a week and offers a combined indoor and outdoor test facility for exclusively custom-fitting Mizuno golf equipment. An indoor fitting suite using high-speed cameras and customised data analysis, is combined with an outdoor driving bay to provide a complete test experience, says Mizuno.
The facility will include over 400 drivers and fairway metals, utility clubs, irons, wedges and putters with top quality technical support from Mizuno experts. The vast range of custom options and shaft varieties available enables Mizuno's fitters to confirm the accuracy of their indoor test data with real ball flight.
Andy Kikidas, product manager for Mizuno commented: "The first fitting suite in Cumbernauld, Scotland has been fully booked since we opened in April 2004 - with a waiting list of about two weeks. And now we have opened a second fitting suite at Cumbernauld to accommodate double the amount of customers."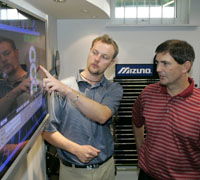 High technology analysis




He adds: "The new Pachesham Park fitting centre offers the added advantage of weekend and evening openings, enabling us to accommodate even more golfers each week. The centre is run by Mizuno staff as a pure service facility where our aim is to help golfers discover which equipment best helps their game - without any sales pressure."

One-hour appointments at both the new English and Scottish National Fitting Centres can be booked through Mizuno stockists listed on its website's store locator.

The Pachesham Park fitting centre is open 7 days a week, excluding bank holidays from 9am-8pm weekdays and 9am-5pm weekends. The centre in Scotland is open 8am-4pm, weekdays only.