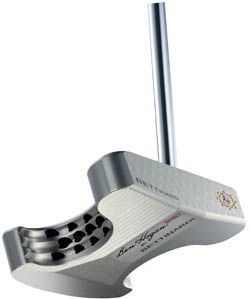 Furyk's Big Ben putter.
The latest Big Ben putter designed by Bob Bettinardi – putter maker to the Ben Hogan company - could well be re-named Big Jim after its latest success.
Jim Furyk renowned as fickle when it comes to putters, finally settled on the Big Ben version – with its distinctive alignment style and five point sole – to win the US Open at Olympia Fields.
The club was one of a handful of new putters released when Ben Hogan joined forces with Bettinardi earlier this year.
Now expect heavy demand for the club which, like the Odyssey Two-ball, Scotty Cameron Futura and TaylorMade Monza, relies on unique balance from a wide-flat sole, to deliver the clubface like a pendulum into the back of the ball for extra roll.
Furyk revealed it was only the day before the start of the 103rd US Open when hedecided to add his new secret weapon to his bag of clubs which already included a set of forged Ben Hogan irons and prototype Hogan Colonial wedge.
Furyk had spent three months with members of the Ben Hogan/Bettinardi team making final adjustments to the heel-shafted version of the putter.
He revealed: "It's unusual to put a new putter in your bag for a major but I worked with the team until I was 100 percent comfortable with it. The key was the easy alignment. It really lifted my confidence around the greens."
The prototype features an identical hourglass shapebut with 38 per-cent of the head weight located in the rear of the putter. When it's released shortly in the UK, the putter will have a recommended price of £175.
Furyk also used theStrata Tour Ace four-piece, multi-layered golf ball that has recognisable symbols found in playing card suits - diamonds, hearts, spades, and clubs.