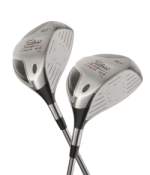 Titleist 983K driver




Titleist's latest driver on Tour – the 983 model – will soon be available to amateur golfers in the UK.

It's the club that Ernie Els and Phil Mickelson have been hitting out of sight of their rivals and which Jim Furyk used in claiming his first major title – the US Open on Sunday.

It will soon be available for amateur golfers in the UK at £350 – and, without doubt, there'll be plenty of takers even at that price.

Titleist claims it has been able to 'meet and exceed the performance expectations of the world's most competitive golfers' with its USGA-conforming, custom-made 983E version. It complies to regulations both for PGA Tour event and Open qualifying.

Tournament winners Paul Casey, Davis Love III and Frank Lickliter also used the club this year.

Amateurs however, will only be able to get their hands on the 983 K which has both USGA conforming and high core versions. Both 983's come in a dark grey finish with the distinctive Titleist 'true pear' profile.

The Titleist 983K high COR version has a 365cc head with a large thin beta titanium face insert 'to produce the highest possible COR and higher ball speed.' "The slightly heel-biased internal weighting," says Titleist, "produces an easy-to-square face while the deeper centre of gravity location positioned to deliver a high, forgiving flat ball flight."

The smaller 350cc head of the Titleist 983E coupled with the slightly shallower front-to-back profile, is built to produce a flatter launch angle lower centre of gravity, more boring trajectory and low spin.

"The result is a low spin driver for the stronger or high-spin player seeking optimal distance with trajectory control," says Titleist's European Marketing Director, John Peal.

"Serious golfers, whether they are professional or amateur, demand quality, consistency, choice and above all superior performance. The new 983 line up of drivers, which delivers on all fronts, is without doubt our most impressive driver range yet and has been given a flying start by its early success on Tour."

Have you tried one yet? Tell us on the forum. You can also tell us about your driver and what else is in your bag. Review any of the equipment you carry and it could win you a free sleeve of Titleist PTS golf balls.