Cleveland wedge-fit chart shows the author's wedge gaps (above) and Cleveland's more consistently spread recommendations (below).
  While a growing number of committed golfers have probably been custom-fit for a driver or a set of irons, few of us will have had the opportunity to be have our wedges tailor-made for personal use.

But last week, along with over 40 PGA professionals, I attended a seminar at Bearwood Lakes Golf Club in Berkshire, where Scott Carlyle, Cleveland Golf's head of product development for wedges, revealed the benefits of custom-fitting golfers of all abilities for these most vital of scoring clubs.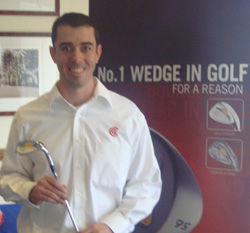 Scott Carlyle - Cleveland wedge specialist




While it was also a lesson helping the pros with their equipment sales technique, it was a fascinating insight into understanding how the right combination and clubhead design, loft and bounce on the wedges in your bag can dramatically lower your scores.

Online Fitting

The launch of an online wedge fitting programme (which goes live in the UK next month) will simplify the fitting process by asking the golfer relevant questions to help narrow down club parameters and discover the perfect wedge set-up. Charting your yardage with your current wedge set (it pays to know your individual wedge yardages before you log on) the system locates the gaps and reworks your set make-up with recommended lofts to give you the ideal distance gaps between clubs.

It will also advise on clubhead type (blade/cavity back) from Cleveland's extensive range, including bounce angle recommendations depending on the types of surfaces you play from. It's an ingenious tool and is surprisingly personalised, although it's in no way intended to bypass the discussions you might have with your pro when considering what shots you can play.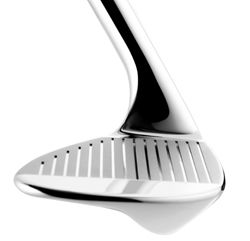 Grooves on a 60-degree CG12 wedge
Add wedges for greenside control
Cleveland carries out extensive research among club golfers when it designs it wedges and recently discovered that over five rounds, average handicappers (10-20) hit over 26% of their shots with a wedge of some description. Considering that these shots can be hit from bare lies, tightly-mown fairways, semi-rough, heavy rough and bunkers from anywhere between 10 and 120 yards from the pin, it's asking a lot of your pitching and sand wedge to accommodate all these different shots.
"Most pros carry at least three or four specialist wedges, while Phil Mickelson has been known to carry a five in his bag," says Scott, who is responsible for working with players like Vijay Singh and David Howell in the creation of the latest range of Cleveland CG12 and CG14 wedges.
"Having so many lofts gives them a vast number of shot options around the green. And that's even more important for amateurs, who tend to miss greens more often than pros."
Mind the gaps
Finding out where the distance gaps in your wedge set are is key to determining which clubs you need. Hitting half shots with any club is hard for even the best players, so Scott's advice is to find clubs that you can hit full out from say 75, 95 and 120 yards from the flagstick, making sure that there are similar distance gaps between clubs. He also advises no greater gap than four degrees of loft between each wedge.
"The starting point for the wedge set is the pitching wedge(PW)," says Scott, "but because there is no industry standard loft, you could be playing with anything from 44 to 48 degrees. This can increase your yardage with one club by up to 30 yards, which is a massive amount for a short-range club."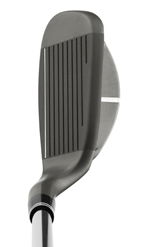 The latest Cleveland Niblick -selling like hot cakes




He advises golfers to get the loft on their PW measured by their pro (alternatively can check the specifications online via your manufacturer's website), and then work through the set in evenly-spaced increments until you get to around 58-60 degrees.

"A lot of higher handicap players don't feel comfortable with a 60-degree lob wedge, but with a bit of practice and the proper bounce configurations (which can prevent it from digging in), they can be a real boon, especially if you regularly short-side yourself or have to play over hazards to reach tight pins.

"A standard sand wedge has only 56 degree of loft and a wide sole flange designed for getting out of bunkers, not from tight lies, so you need another club to play those kind of shots," he says.

Make the most of Bounce

Another key to correct wedge fitting is getting wedges with the right bounce angles to suit the condition of the courses you tend to play most often and your angle of attack. The degree of Bounce is the angle from the leading edge to the trailing edge of a wedge. Striking the ground towards the leading edge of the sole means you need more bounce. Striking the ground toward the back (or trailing) edge means you need less bounce.

Cleveland has the bounce angles printed on all its wedges (between 6 and 14 degrees) but also uses a three-dot bounce labeling system on the hosel, with one dot meaning low bounce, two equating to standard, and three high bounce.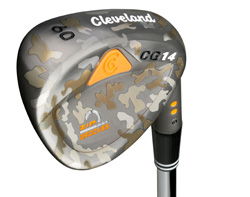 The new Camouflage CG14 wedge, as used by Boo Weekley
Bounce benefits
The Low bounce option is best for shots from tight lies and firm turf conditions. The combination of less bounce and narrower sole width lowers the leading edge of the blade to promote clean contact on every shot. It's also perfect for players who have a shallow attack angle through impact.
A Wedge withStandard bounce is the best all-around option for playability in all types of conditions for a wide variety of abilities. It's versatile for players who like to be creative around the greens and a good choice for players who like to play an open or square face out of the bunker, and who have an average to slightly steeper attack angle.
The High bounce option is designed for play out of soft turf conditions and bunkers. The combination of the wider flange and ample bounce angle prevents digging at impact and creates a smoother gliding action of the sole along the ground or sand. It's also ideal for players with a steep angle of attack into the ball.
Clubhead design
Many high handicappers benefit from using the wedges that come as standard options with their irons, as the continuity of head shape and the forgiving qualities of the cavities and wide soles will improve confidence around the greens.
Cleveland has recently launched the new Niblick wedge-hybrid, which combines the features of a wedge, in a chipper-style design, with a wide sole, short shaft and an alignment aid, that will help high handicappers with shots around the green from 70 yards and in.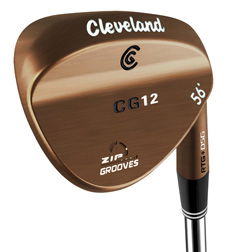 Cleveland CG12 DSG wedge




Mid handicappers who still play with game improvement irons will benefit from using slightly more forgiving wedges, perhaps those with polymer inserts to reduce vibration and the punishing effect of slight miss-hits. Cleveland claim their new CG14 wedge fits perfectly, with the Gelback insert helping to improve feel on slight miss-hits, while the mid-size cavity improves forgiveness.

Better players are spoilt for choice. Cleveland offers a wide variety of models - multiple loft and bounce options, finishes and head styles - to suit virtually every possible range of shots, from any given surface. The CG12 and CG12 DSG range is aimed at mid to low handicappers looking for versatile shot making. The DSG range, with its split sole, is designed to work equally well when the face is opened up, making it ideal for creative playmakers, or those that want to add loft without having to resort to using a lob wedge.

Cleveland's Online Wedge Fitting

To see Cleveland's wedge range for 2009 visit www.clevelandgolf.com. The online wedge fitting programme goes live at the end of April in the UK.

Tell us on the forum: What your current wedge set up, and what wedges would you like to add you to your bag if you had the space - and the money? What would you give up to accommodate another wedge and maintain your 14-club quota, allowed in the Rules of Golf?