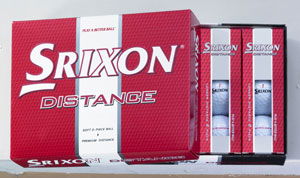 Look out for the distinctive packaging of Srixon's new distance ball
    Srixon has strengthened its range of golf balls with the introduction of a 'new and improved' Srixon Distance ball due to cost £16.99 per dozen.
According to the latest marketing research, the Alton-based company claims the title of best-selling two-piece ball brand and aims to stay at the top with the Srixon Distance, which offers a 'higher initial velocity and a penetrating ball flight for greater distance'.
Srixon says the ball is ideal for those with swing speeds of 80mph or greater, has 'responsive feel and is more durable'.
Its features include a softer compression for high launch and less spin, cut proof cover, 420 dimples for improved trajectory and a progressive core for explosive reaction off the clubface and more feel.