TaylorMade's latest R9 iron (left) and R9 TP iron
TaylorMade is introducing a new set of R9 irons with a clean and conventional shape that the Basingstoke-based company says will appeal to 'technician' golfers.
The club-makers are also unveiling the TaylorMade R9 TP irons, inspired by Nick Faldo's input and which will prove attractive to the elite amateur and Tour pro.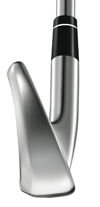 Profile of TaylorMade R9 iron




Price of the 8-club set of R9 irons (4-iron to sand wedge) will be £699 with steel shafts and £799 with graphite.

The TaylorMade R9 TP irons will also be available from October 12 in men's right- and left-handed models (3-iron to pitching wedge) with steel shafts for £729 (X, S and R flexes). A 2-iron and attack wedge are available separately.

Says Harry Arnett, TaylorMade's senior category director of metalwoods and irons: "Whereas our Burner irons deliver extraordinary distance in a modern design, the R9 irons are aimed at the technician, and so are rendered in a player's shape with a clean and conventional look.

"However, a ridiculous degree of performance-enhancing technology is packaged within each oversized clubhead. The result is an iron that's phenomenally easy to play despite its classic appearance, and extremely controllable and accurate as well."

The TaylorMade R9 long-irons and middle-irons have been designed separately from the short-irons to optimise performance in each club, say the makers, with 4-iron through 6-iron 'extremely long and easy to hit,' using thin-faced velocity control chamber technology (VCC). The R9 short-irons are engineered with a vibration-quietening layer sandwiched between the clubface and the cavity to promote great feel, control and accuracy.

TaylorMade's R9 TP irons meanwhile, have a classic, compact shape and size with a semi-square toe, thin topline and thin, beveled sole.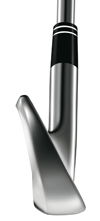 Profile of TaylorMade R9 TP iron




Faldo believes it's essential that this connection point be pleasing to the elite player's eye with the addition of mirror nickel-chrome plating with a pearl finish.

All R9 TP irons feature TaylorMade's Inverted Cone Technology (milled in long-irons, cast in short-irons) fabricated directly onto the inner side of the clubface to promote higher ball speed on off-centre hits.

Despite many players switching to hybrids, TaylorMade says the low centre of gravity and VCC technology makes the R9 TP long irons easy to launch and expects many players to put the 2- and 3-iron back in their bags.

Among those already winning using the TaylorMade R9 TP irons with KBS Tour Series shaft are Kenny Perry, Dustin Johnson and Rory Sabbatini. They also incorporate a new groove design that conforms to the USGA and R&A ruling to be introduced for Tour competition in January.