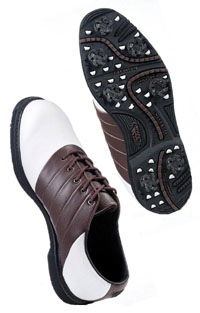 Hi-Tec MM500 shoes
While technicians strive to find legal ways to build clubs that hit the ball further, straighter and closer, and make balls that fly longer and stop on a sixpence, the shoe manfacturers' shangli-la is to keep your feet cool when it's hot, and dry when it's wet.
Comfort and traction underfoot is also a key requirement, together with a price within the range of all club golfers. Hi-Tec reckon they have found the answers with a moisture management system - installed in its MM500 range - and a Tornado cleat which keeps your feet under control even on the slippery surfaces we experience during our winter golf.
The combination of its Orton Last interior and Sympatex membrane, says Hi-Tec, wicks moisture away from the foot and out of the shoe and a bellows tongue prevents any water entering the shoe around the ankles.
Ryder Cup players Padraig Harrington and Ian Woosnam are already wearing shoes from the MM500 range on Tour and while playing in all conditions, are delighted with the stability and comfort they provide.
The MM500s, available in black or white with a russet saddle, made of Chifa, scuff-resistant leather, also have a one-year waterproof guarantee. Priced at £49.99 they're probably one of the best value shoes on the market.
We always bring you the latest golf equipment news, but this time we've an added extra in that we've got five pairs of MM500s to give away in an exclusive competition open only to Golfmagic members.
---
What shoes are you wearing at present? How to they stand up to the UK's tough winter conditions? Why not submit a user review – it could win you an Adams Tight Lies fairway metal from County Golf.