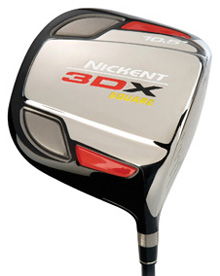 Nickent's new driver
Just when you thought it was safe to say that the square driver revolution might subsiding and perhaps TaylorMade's boss Mark King was right after all ['I'll give them three months'] - out comes another rectangular club.
This time Nickent Golf - a well known brand in the US but yet to make its mark in the UK - is introducing a 3DX square driver, after allegedly sending dozens of samples to key retailers and getting a positive response.
"We picked a few select retailers to do a test on the 3DX Square and it turns out we have never had a hotter product," says Nick sales chief Ian Zubkoff. "They say it looks better, sounds better and performs better than the other square - or high MOI (moment of inertia) drivers on the market."
The square allows engineers to move more mass to the back corners of the clubhead, which reduces torque or twisting of the club at impact. The results, they say is a more forgiving head and a more consistently square face delivered to the ball at impact for straighter drives.
But there are still some issues with square drivers. Tiger Woods has talked about how he would like to play a Nike SasQuatch Sumo2 model - Nike's square driver - but the launch angle, he says is too high.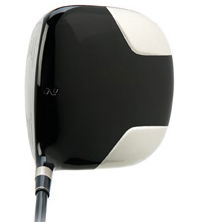 Nickent profile




Nickent says its engineers have been working on that problem and have focused on making its club with a more penetrating ball flight.

"We wanted to accomplish was an optimum trajectory," Nickent's John Hoeflich "Others may not taken into account that this design makes the ball go very high and produces a lot of spin, even for high handicap players. We wanted straight rocket launchers."

The club's head is made of forged titanium and with a UST V2 graphite shaft and Lamkin NNG grip in 9-, 10.5- and 12-degree versions. The 10.5-degree model is available for left-handers. Suggested retail is about half of what Nike and Callaway square drivers sell for around $199.