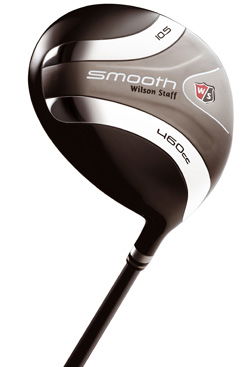 Wilson Staff's latest driver: The Smooth
Many would agree that triple-major winner Padraig Harrington is a 'Smooth Operator' following the way he has handled himself in the media and with the golfing public following his victories in the 2008 Open and US PGA Championships.
Now the term can be taken literally as Harrington reveals he has put Wilson Staff's latest 460cc driver - The Smooth - into his bag to replace the Dd6+ driver because it delivers higher ball speed off the clubface and even more distance.
The Smooth driver will now be available early in 2009 to club golfers in a range of lofts and shaft flexes, says Wilson Staff, for around £229.
Modelled on the streamlined shape of the world's most eye-catching sports cars, The Smooth features an aerodynamic design and variable face geometry to deliver distance, even from miss-hits.
Available in 9-, 10.5 and 12-degree lofts, The Smooth also includes 'progressive internal weight distribution' - suited to each loft model to provide lower spin rates, higher launch and more stability appropriate to the player.
Wilson Staff also says that a variable range of shafts will also benefit a player's choice. For example, the Fujikura E-Fit E100 shaft in lightweight R2 Flex and R Flex is geared for a more relaxed swing and higher ball launch while the heavier 68g E300 S Flex is designed for a stronger swing with a lower trajectory.
"The Smooth is a beautiful-looking driver with serious performance credentials," says Doug Wright, European business director for Wilson Golf. "In composite tests among 30 average players using the latest drivers from rival brands, the Smooth produced the fastest ball and clubhead speeds, resulting in more distance."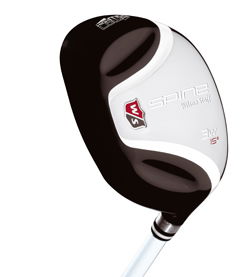 Note the square shape of the Spine fairway metal




The Wilson Staff Spine range will also be extended in February with the introduction of two fairway woods to compliment the Spine driver with its unique ridge on the top of the clubhead.

The 3-wood (15 degrees) and 5-wood (18) have a rectangular design that Wilson claims creates exceptional forgiveness and generates a high ball trajectory and low spin rates.

The new fairway woods also feature the distinctive white UST V2 graphite shafts of the Spine driver and a headcover. Cost is expected to be £129, with £199 for a new 12-degree offset version of the Spine driver promoting a right-to-left ball flight.

*Tell us about the driver and fairway woods in your bag - as well as the balls, shoes, waterproofs. Submit auser review before the end of November for a chance to win one of three Spherical Blade putters we're giving away.

And if you've got equipment to buy or sell second hand or even swap you can do that too, in our new and improved classified/swap shop section.