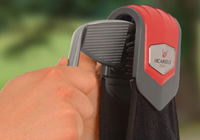 Cleans clubs in a sturdy brush
An innovative product I spotted at the recent Golf Europe trade show in Munich, has proved a real asset on the golf course recently now that 'preferred lies' and 'winter rules' have come into play.
The V-Towel from County Wicklow company Vicarious has proved so useful that they've agreed for Golfmagic to give SIX away to our members in a special forum competition.
As experienced golfers will know, during the winter months in the UK, when courses are wet and muddy and the ball is likely to pick up all kinds of debris, special local rules can come into operation. These allow us to lift and mark our ball without penalty, where it comes to rest on a mown area of the course, clean it and replace it within six inches (no nearer the hole), before attempting our next shot.
While some will use anything handy to clean the ball including our trousers, the inside of a sweater, an old towel and even the grass itself, the V-towel product has taken equipment cleaning to the next stage.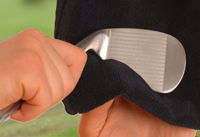 Highly absorbent towel




As well as providing a detachable towel - more absorbent than cotton towels - the device, clips on to the golf bag and includes a swivel brush with stiff bristles to clean deep into the grooves of your clubs and get maximum spin and distance control from the ball.

Available in a variety of colours to match your golf bag, the V-towel is the first of a series of innovative club cleaning products to be launched by Vicarious Golf and costs £24.95.

For a chance to win tell us in 50 words or less about a golf course you recommend where the views are stunning. Submit a picture, too, if you can. Closing date is December 12.