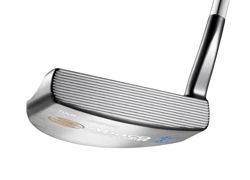 The new Abaco putter from Rife
RIFE
, one of the fastest emerging putter brands, is introducing six more models to its range this month and features a classic blade, a 2-bar blade, three new mallets and a smaller mallet.
Designer Guerin Rife says he has positioned feel and playability at the top of his agenda with the brand getting a reputation among professionals and amateurs alike.
The Bimini (£109.99) is a Rife version of the classic 8802 blade putter 'for the purists' made famous by Arnold Palmer with a half milled 304 stainless steel construction and RollGroove technology.
The 2-Bar Hybrid Tour Mallet and 2- Bar Hybrid Blade are the next generation of the hybrid line, with the blade being a new addition to Europe. Both have a plumber's neck hosel and black, compact heads preferred by Tour players and are priced at £129.
The Barbados Tour Black (£109.99) is an updated version of Rife's most popular title-winning putter with polished grooves giving a two-tone face and finally, the Abaco is inspired by one of Rife's first designs - an Anser-style mallet with no hosel gives Tour players more flexibility in terms of shafting and overall look.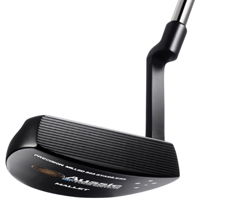 Aussie mallet in black
Finally the Aussie Mallet (£109.99) is a stunning-looking putter and Rife's first non two- bar mallet with three alignment lines that set up square and stays square through the stroke, offering heel-toe weighting for increased stability.
Each of the Two-bar designs come with Rife's Lie-aline system that enables customisation to get the perfect lie set-up and with a four-point interchangeable weighting system to set the putter to the conditions.
*We want to know about the clubs in your bag - as well as the balls, shoes, waterproofs. Submit auser review to help other golfers make informed choices and for the chance to win prizes every month.
And if you've got equipment to buy or sell second hand or even swap you can do that too, in our new and improved classified/swap shop section.