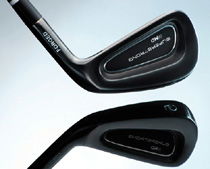 MD Golf's forged irons




Think of golf in Northern Ireland and what comes to mind? Darren Clarke, the stunning County Down or the Causeway Coast courses of Royal Portrush and Castlerock?

Well now Antrim-based MD Golf is also making an impact with its range of high quality, competitively-priced equipment which have already won top awards for value.

Probably the pick of the crop are the 2004 Superstrong Forged irons which now have a muscle-back version aimed at the better player – with a blade-style head in the 9-iron and wedges for better control.

And at just £299 for a set (3-SW) with the option of Balistik Rifle or Dynamic Gold shaft, the clubs are likely to prove very popular. There are also original and carbon steel versions.

A little more forgiving are the MD Tour Steel irons, available from £199 (3-SW), with more weight in the toe to help reduce miss-hits. Graphite shafts cost £50 extra and 4-SW models for women, with 55 UST graphite shafts, are priced at £249.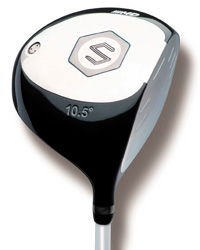 Superstrong Hot ti driver.
The company's range of Superstrong Steel woods are also making their mark, with the 7-wood - complete with slightly heavier UST graphite shaft – rated the best among 18 similar lofted fairway metals in a recent survey. At £89 (with a head cover) you get a heck of a lot of club for your money.
Look out, too, for the MD Superstrong Hot ti driver, with 400cc head featuring a Tungsten Power Screw to help square the clubface at impact. It's available in a range of lofts (9.5 – 12 deg) and shafts you'll pay from £99 to £139 when the club becomes available in the New Year.
Also new to the MD range are eight Superstrong putters with insert faces, priced at £59 and all named, appropriately, after classic Irish courses.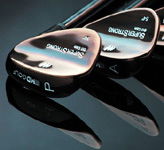 Oil Can wedges.
And you don't have to pay over £100 for a top quality wedge. MD Golf has introduced Carbon Steel and Oil Can wedges from £39 - £49.
We plan to test a sample of clubs in on golfmagic over the next few weeks, but if you want to take a close look, you can visitwww.mdgolf.co.uk to find your nearest dealer.