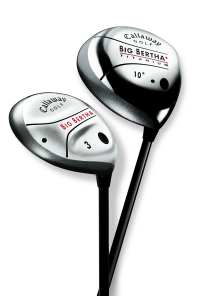 Big Bertha driver and fairway metals
Originally named after a mighty gun used in the Second World War, the Big Bertha brand is set to make a fresh impact on the golf market.
Callaway's Big Bertha Titanium driver and Big Bertha Stainless Steel fairway metals are expected to be available in the UK in January to support the demand for the ERC Fusion and Great Big Bertha II drivers, but in a more competitive price range.
The driver will have a suggested price of £229 with a choice of either RCH or Gems lightweight graphite shafts while the fairway metals will have a suggested price of £199 (graphite shaft) or £149 (steel).
The 360cc Big Bertha Ti driver, features a head that is slightly longer from heel to toe than previous Callaway models, making it 'more forgiving'. Adjusting the thickness of the 'ribbon' around the perimeter of the driver also increases ball trajectory for extra carry and roll, say the makers.
A version of the driver – the Big Bertha Titanium Plus - that exceeds the 'trampoline effect' limit but which will become illegal from 2008, will also be available in the UK and Europe.
The fairway metals have a new design incorporating an internal weight chip to lower the centre of gravity and make the club more playable and with a 'high and strong trajectory.'
Callaway has also included an updated Warbird sole in its range of 11 right-handed fairway models (from strong 3-wood to 13-wood). Callaway says the 'keel' ridge design will make shots from rough or sand more successful.
New models include a strong 5-wood (with the loft of a 4-wood, length of a 5-wood and head size of a 7-wood) and a strong 7-wood, based on feed back from Tour pros who wanted more options when choosing fairway woods. Vijay Singh is among a growing number of pros who include a 7-wood in their bag. For left-handed golfers, the new Big Bertha range includes five models (from 3- to 9-wood).
Special women's versions will also be available, distinguished by a champagne colour, 13-degrees on the driver and lighter and shorter graphite shafts on the fairway metals.