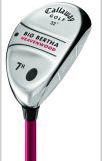 Heavenwood Hybrid 7H
Callaway has added two new models to its line of Big Bertha Heavenwood Hybrids. The 6H and 7H will be available from November 1, with lofts of 29 and 32 degrees respectively.
Originally designed for those of us who struggle to hit long irons and want an alternative to the high-loft fairway metals that traditionally have replaced them, they feature a low-profile design that creates a low centre of gravity, making it easier to get the ball airborne.
Shaft lengths, say Callaway of the 1H to 7H hybrids, are longer than the irons they replace, yet shorter than comparable fairway woods. The modified Warbird sole is designed to help the clubhead glide over or through any surface with minimal resistance.
Though there are no left-handed options in the new models, the standard graphite shaft is the RCH 75w (£129), available in light, regular, firm and strong flexes. Big Bertha Uniflex is the standard steel shaft (£119) and a women's right-handed version is also available.
To find your nearest Callaway dealer click here.