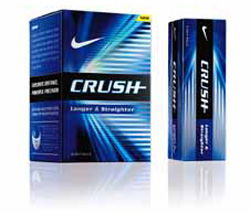 Look out for Nike's latest Crush ball packaging
  
NIKE Golf has adopted popular terminology to launch its latest ball, which the company hopes will become synonymous with longer, straighter tee shots.
Its new Nike Crush ball (£22 per dozen) has been designed to deliver 'explosive distance and powerful precision' for golfers motivated by the bragging rights of out-driving everyone in their fourball.

 
The Nike Crush ball, available from November 1, will combine a softer 63-compression core and new DMC cover coating to reduce hook or slice spin and maximise ball velocity off the clubface.
  
"I believe we've done a great job designing a longer and straighter golf ball for a wide range of swing speeds at a mid price," says Rock Ishii, director of product development for Nike Golf balls.  
Nike claims the 312-dimple ball is aimed at golfers who generate clubhead speeds of 80-95 mph, but who will also appreciate the ball's greenside feel.