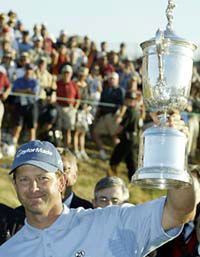 Goosen's US Open trophy
Britons, indeed European golfers, may not have covered themselves with distinction in the US Open but there's a corner of England that is taking much credit for Retief Goosen's victory at Shinnecock Hills on Sunday.
Harold Swash, the Southport septuagenarian 'Putting Doctor' designed the putter with which the South African claimed his second US Open in four years with a display on the treacherous greens that silenced even the partisan New Yorkers.
Goosen, who finished on four under par 276 and won by two shots, was using the same Yes Golf Tracy putter, with Harold's distinctive C-Groove face technology, with which he won the 2001 title at Southern Hills.
His amazing 24 putts in the final round – including 12 single putts – was the vital difference between him and the fans' favourite Phil Mickelson in second place after a thrilling last nine holes in which advantage ebbed and flowed from one to the other.
Goosen took only 111 putts in four rounds, on greens that were at times described as 'impossible' – hard, fast and so difficult to read for line and pace that most of the 156 players putted off the green at least once during the week.
The European contingent, used to slower putting surfaces, couldn't handle the conditions and Sergio Garcia was best placed (in a tie for 20th) - 15 shots behind the winner.
Daniel Chopra (Sweden) and Padraig Harrington (Ireland) were 22nd and 31st respectively on 12 and 15 over par after final round 75s. Leading Briton was Lee Westwood on +16 after a closing 79 with Phillip Price on +22 after disappointing weekend rounds of 75 and 84.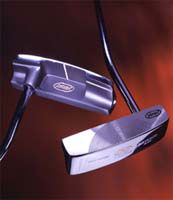 Goosen's Tracy putter
David Halsall, managing director of Yes Golf's European distributors in Southport, told me this morning: "We're delighted to see that Retief is using our putter. He has been using it consistently again for the last couple of months."
"The C-Groove technology on the face means that on impact the grooves grip the ball to keep it rolling and it stays on line."
"And this is significant on greens that are very hard – in terms of difficulty and their pace and when accuracy is at a premium."
The putter Goosen used, named by the manufacturers after his wife, is one of a handful – all with girls' names. Goosen has tried them all, though he is not attached to the company contractually.
He has used the centre-shafted Tracy II as well as the Emma with a branding iron style head.
"He's a very quiet bloke" says David, "and when he wants a putter he approaches us through his management, though [because of a contract with TaylorMade to use their irons and R7 Quad driver] he can never actually say he uses our products."
Stuart Appleby and KJ Choi also use Yes Golf putters and Choi is currently testing a Callie model, with a crook hosel, due to be released in Europe shortly. The Natalie putter with a tail bar behind the head is also soon to be launched, both priced £109.
For your nearest stockist of Yes Golf puttersvisit www.yesgolf.com or call 0845-601-5778 or email: david@yesgolf.com.
The face-balanced Tracy putter used by Goosen is now available at £99. It has a double bend steel shaft and is available in RH or LH models, shaft lengths 32 to 37 inches, with a white headcover.