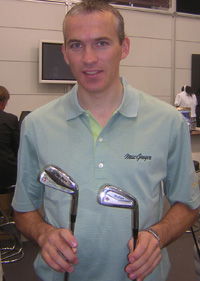 Dave McDermott with the first look at the 2008 MacGregor irons
Former world No.1 golfer Greg Norman has been confirmed as the new chairman of MacGregor Golf - just weeks after a reported $300million divorce settlement with his wife Laura following his relationship with ex-Wimbledon tennis champion Chris Evert.
Norman, who had Ms Evert at his side when he was inducted into the Australian Hall of Fame earlier this month, has become a major stakeholder with an investment he described as "the biggest business deal I've ever made".
It is described as a 'recapitalisation' of the company which generates annual revenue of about $150 million (£75million) and has its European base at Henley-on-Thames.
As one of the oldest golf companies in the world, with its US base in Georgia, MacGregor has had a chequered 109-year history, but Norman says he intends to have a hands-on involvement as its new chairman.
"We have to get back to the basics of what the company is all about," he said. "This is a very positive step for the company. I look forward to helping to unlock the true brand value that is embedded within MacGregor and Greg Norman Collection, and to achieving their true potential."
His marriage to former wife Laura ended in July when settlement was reached out of court.
MacGregor Europe had a strong presence at the recent Golf Europe trade show in Munich where it revealed its range of MacTec Pro Series muscleback and cavity-back irons, which the company's Dave McDermott described as ' modern classics' with typical high quality MacGregor forging by its legendary club-maker Don White, who has also created £80 MT Pro and MT Escape wedges in a range of lofts.
Also on display were the latest MacGregor DCT mid-size Response putter, which the company claims is the No.1 'unpaid putter' on the PGA Tour with 15-20 professionals using it most weeks.