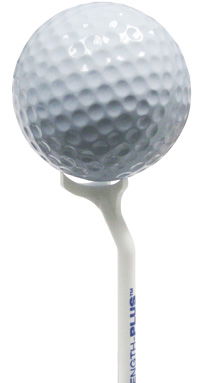 The PTS Offset tee
  Apologies to the golf industry but here's silly me thinking a golfer needs to spend a total of at least £1,000 on a series of lessons with a pro, a custom-fitted driver with a hot, adjustable face, interchangeable weights, a PURE'd Voodoo shaft, tactile grips and a ball costing nearly £4 in order to find an extra 20 yards off the tee!
When all the time a modest investment of a few pence could deliver the length they're desperately seeking.
The latest gadget aimed at discovering golfing Nirvana is revealed by PrideSports, the world's leading producer of wooden golf tees, which has launched a revolutionary new PTS Offset golf tee.
It's the first plastic tee to feature a 30-degree offset angle and claims to help deliver long drives by creating contact with the club at its maximum speed and optimum trajectory. PrideSports says it also promotes an ascending blow, reduces friction, minimises spin and maximises distance.
Says Joe Zeller, president of PrideSports. "The PTS Offset tee provides a launch angle and contact point that has never before been possible, resulting in longer, straighter drives."
The Professional Tee System (PTS) follows demand from pro and amateur golfers, for a system to identify golf tee lengths that worked best for today's diverse, oversize and hybrid golf clubs. As a result, PrideSports abandoned the decades-old style of identifying golf tee lengths by inches and created a proprietary system of colour-coding for easy identification of length matched to clubface depth.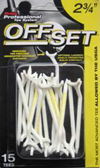 Pack of PTS offset tees




The PTS Offset Tee has a suggested retail price of £2.99 for a pack of fifteen 2.75-inch tees and £3.49 for a pack of fifteen 3.25-inch tees.

For details of your nearest stockist - tees will be available from Mid-February - contact Pride Sports on 01827 56544 (ext 239).