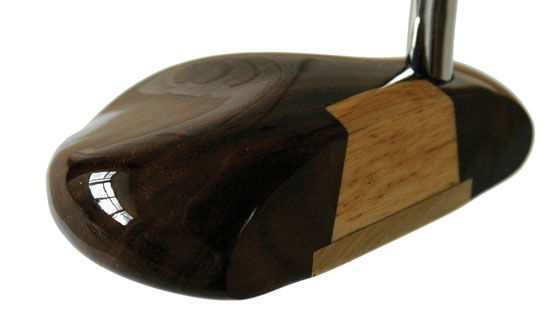 Beautifully-crafted Spherical Blade Admiral putter
Wooden putters, similar to those that graced the greens at the turn of the 20th century are making a comeback - thanks to UK based manufacturer Spherical Blade.
The precisely engineered and beautifully-crafted S-Blade Admiral and S-Blade Tortoiseshell putters are a combination of science and art. Finished in persimmon, walnut and maple, the putters look superb, but perform as well as their more modern-looking steel and bronze counterparts.
Due to the natural grain effect, each individual putter is unique and certainly turned heads at the recent Golf europe trade show in Munich where managing director Ian Smith was delighted by the interest retailers and distributors from several European countries.
Like all 10 putters in the Spherical Blade collection, the Admiral and Tortoiseshell feature the brand's revolutionary 'curved face' technology – gentle convex curves running up-and-down and across the putter face to impart top spin roll on the ball at impact.
The distinctive face also negates the skid and bobble that can be caused by typical flat bladed putters and widens the putter's sweet spot and helps keep the ball on its intended target path.
The right and left-handed, centre-shafted S-Blade Admiral and heel-shafted S-Blade Tortoiseshell are a face-balanced and available in lengths from 30-36 inches with a protective headcover and a choice of grips, costing £179 each UK from distributor Sigma Golf or online at www.sphericalblade.com.
FOR A CHANCE to win one of the five conventional Spherical Blade putters we're giving away until the end of November, submit a review of the clubs or balls you carry in your bag or the shoes and waterproofs you wear.