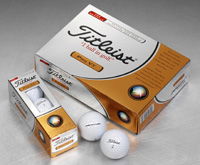 The Titleist Pro V1 - best selling ball in golf
The Acushnet Company, the golf business of Fortune Brands which represents Titleist, FootJoy and Cobra, will file an appeal against this week's ruling in a US District Court in Delaware, which granted Callaway Golf's request for an injunction in the long-running dispute over four Callaway patents and Acushnet's Titleist Pro V1 golf balls.
The injunction is only effective in the United States and it has no impact on sales of Pro V1 golf balls outside of the US. The company also announced that it does not expect the ruling to have a material adverse impact on its results.
"We strongly disagree with the judge's ruling and will file an appeal and seek relief from the injunction," said Joe Nauman, executive vice president, corporate and legal of Acushnet. "However, it's important to recognize that this ruling will not have any impact on our ability to supply our customers with Pro V1 golf balls because of the actions we have undertaken.
"In September 2008, we converted production of the existing Pro V1 models so that they are outside the patents in question and will be introducing new and improved Titleist Pro V1 balls in the first quarter of 2009 that are also outside the scope of the patents in question."
He added: "Our Pro V1 golf balls are the product of technology developed and accumulated by the Acushnet Company over the past 20 years. Acushnet is the industry leader with in developing ball tecx hnology, with over 650 active golf ball patents – more than any other manufacturer. Over 65 of these patents are related to the Pro V1 family.
"We will continue to defend ourselves vigorously and we fully expect to prevail in having all claims of all four patents at issue determined to be invalid in the appeal process," Nauman added. "Our confidence is underpinned by the fact that the US Patent and Trademark Office has issued final office actions which have determined these patents to be invalid."