Ping's latest G15 iron (left) and i15 iron models
STILL GLOWING in its 50th year from staff player Angel Cabrera's victory in the US Masters in April, Ping is breaking with golf industry tradition by introducing a range of new clubs in mid-August.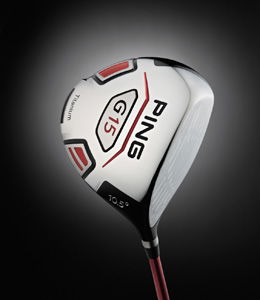 The G15 driver - used by Mark Calcavecchia with great success




The Ping G15 and Ping i15 Series, which include drivers, irons, hybrids and fairway woods have been engineered with two distinct player profiles in mind - and updating the Ping G10 and Ping i10 series of clubs, which have proved so popular with handicap golfers and club pros.

Says Ping's chairman John Solheim: "The G15 Series continues Ping's focus on developing the most forgiving, easiest-to-hit clubs available in golf, while the i15s will deliver the forgiveness we all need, but engineered to provide the workability that a lot of the more skilled golfers look for."

The clubs were introduced to Ping Tour professionals earlier this month with Mark Calcavecchia putting the G15 driver in his bag immediately at The Open. He then set the US PGA Tour's record of nine straight birdies at the RBC Canadian Open last weekend.

"The early feedback from our Tour staff has been very favorable," says Solheim. "Several players put the clubs in play immediately and others will wait for the opportune time. I had great comments from the pros at Turnberry."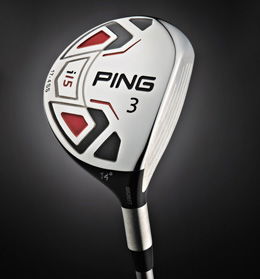 Ping's new i15 fairway metal




Solheim's eldest son John K Jr is vice-president of Ping engineering and says: "The technology available to us from a design and fitting perspective allow us to segment a product's attributes like never before, so we're able to provide this type of targeted product to help all golfers improve their game."

Custom fitting is a key feature of the new ranges. In both the G15 and i15 irons, 12 color codes (lie angles), multiple shaft flexes in steel and graphite and six new Ping grip sizes provide comprehensive options. The metal woods all offer multiple lofts to complement the weights of each head - and two stock shafts in various flexes.

Recommended prices for G15 irons will be £80 per clubs (steel) and £96 (graphite) and for i15 irons £85 and £100 respectively. Drivers (all with graphite shafts) will be £249 (G15) and £289 (i15) and graphite-shafted fairway metals £170 (G15) and £190 (i15).

Ping is also launching distinctively different-looking G15 and i15 hybrids with graphite shafts in a range of lofts, priced at £135 (G15) and £155 (i15).

Look out for our first impressions of the new Ping range next week on Golfmagic.com.
---

Win Glenmuir Gear
What's in your bag?
For a chance to win golf-gear from the latest Glenmuir range, tell us about the equipment in your bag. Submit a comprehensive review - from balls to drivers, golf gloves to sets of irons, shoes to powered trolleys - and give it a rating.
At the end of August, we'll assess the entries and award a Glenmuir Performance Hi-Cool shirt, a Glenmuir Storm-Bloc vest and a distinctive Glenmuir cap to 3 worthy winners.
To submit a review CLICK HERE
---