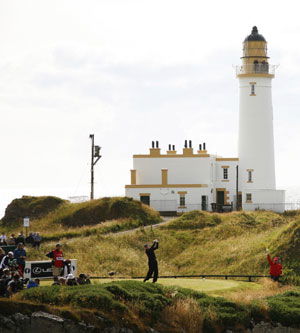 Watson used his hybrid off the 10th tee at Turnberry
  WITH THE success of Tom Watson and a record number of hybrids in play at the Open Championship, the fortunes of Adams Golf continue to improve. We spoke to wedge designer and Director of Tour Operations at Adams, Max Puglielli to discuss Turnberry, Tom and how the average player can benefit from re-thinking the make-up of his or her set.
So what's in Tom Watson's bag?
The only non-Adams club in Tom's bag is his Odyssey White Hot XG No. 7 'Fang' putter. He has an Adams Speedline driver (9.5 degrees) and Adams Insight fairway 3-wood (14.5 degrees).
At the Open he actually played two Adams Idea Pro hybrids (18 degrees and 20 degrees, both standard length, D3 swing-weight with Grafalloy C-Note shafts). He also uses Idea Pro irons (3-PW) and carries a 56-degree Watson wedge. At Sunningdale last week - where he finished 8th behind Lauren Roberts - he took out the 20-degree hybrid and added a 52-degree Puglielli wedge.
Why did Tom use two hybrids at Turnberry?
You might think it strange that he carry a hybrid that is 18 and one that is 20, but they're a little different because we fine-tune the products to suit different shots and conditions. If players see a shot or a hole that they really don't have the club for we can tweak the club and make it a little stronger, just to get the yardage perfect. Every club is very specific. Although Tom added the 20-degree hybrid for the higher shots, he mostly used the 18.
Why does such a great long iron player like Tom Watson need to use hybrids?
Tom is still one of the best long-iron players in the game and until two years ago he carried a 2-iron in the bag. He also starts his warm-up with a 3-iron. But he realises that hybrids will improve his game so it was a simple choice.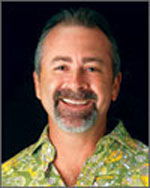 Max Puglielli
How does he use them?
The one thing about Tom Watson is that he controls his ball flight and can hit every shot in the bag. His ball flight is actually pretty high, which is strange for the greatest links player that has ever lived. But that is his game and that is what he looks for. When we fit him for clubs, height is the first thing he looks for. He knows he can hit it low, so when we start he wants height. By changing his swing he can manipulate height. At the Open there were a lot of lower, stinger-type shots.
Is this why he didn't have a lower-lofted driver for the Open?
His driver is 9.5 degrees because it's just a bit more forgiving and gives him a better launch. Tom doesn't need to be playing a 6.5-degree driver because he can control the ball flight of any club, including driver. The great players can do that.
Why are hybrids so popular in the modern game for pro and club golfers?
Golfers are accepting hybrids far more now. There has been a perception that they are only made to hit the ball high, particularly as club golfers struggle to get long irons in the air.
Some golfers think that hybrids only go high and can't be knocked down, but that's just not true. Eamonn Darcy, the Irish former Ryder Cup player for example, is new into the hybrids and although he's one of the best wind players, was asking about how to use them into wind.
I told him 'sting it like you would any other club.' He did and for someone who has never had a hybrid to now carry three is just great because he sees the versatility.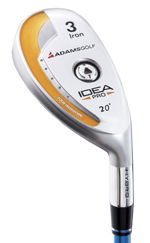 Watson's Adams Idea Pro hybrid
Why is the hybrid great from rough?
If you are in long rough it would be suicidal to attempt to use a 2-iron - there is not enough mass [in the clubhead] and it gets choked. But in hybrids, there are angles in it that allows the clubhead to sweep through the rough with less friction so you can get more aggressive.
We saw plenty of that at the Open. The results were on the whole very positive. You just have to get the right one.
Should the average club player be doing the same as Eamonn and carry at least two or even three hybrids?
Absolutely. Alan Doyle and Dana Quigley are also great examples. Alan has won two Seniors Opens, while Dana has made $15million on the Champions Tour. The longest iron either of them carries is a 7-iron and these are guys who know.
Yu need to ask whom more closely resembles the average player? Tiger Woods or Dana Quigley? Dana's bag is what the average player should be carrying.
The one thing that would help amateurs is looking at the make-up of the set. Leave the ego at home, if you want better scores and go for what is going to help, not what looks good in the bag.
*For more information on Adams Golf products, visit www.adamsgolf.com
Tell us on they forum...how many hybrids to you carry? None or a bagful? If you're a hybrid player describe the brands, the lofts, the distances and types of shots you use them for.