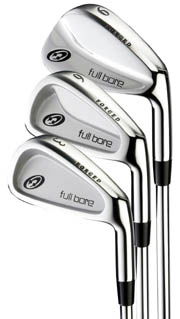 Progen's new forged irons
You won't see the Progen brand on the bag or cap of a Tour player nor will you see it in fancy advertising campaigns. Managing director of the Leeds-based club makers, Marcus Illingworth, says he prefers to invest resources in 'product quality and value for money.'
And following the success of its 2003 MM3 drivers and irons, Progen is launching a range of new clubs including a set of eight forged irons with a £449 price tag as well as a £99 driver.
The Full-Bore forged irons (right-hand only – 3-PW) are cavity backs with a lower centre of gravity in the long irons, which the makers claim are easier to get airborne, progressing through to the bladed short irons with a power bar and high centre of gravity for better control.
They cost £449 with steel shafts compared to £299 (£249 steel) for the new oversize Full Bore 2.3 irons, with a mirror finish and offset to square the face at impact for improving golfers.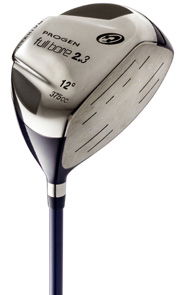 Progen Full Bore 375 driver.
Progen's Full Bore 2.3 metal woods include the graphite-shafted, deep-face 375cc driver priced at £99.95. It's available in 10.5 and 12 degree lofts, with a 10.5-deg loft for left-handers.
The complimenting fairway metals (3- to 9-wood for right-handers and 3- to 7-wood for left-handers) feature a hot-face and high launch angle and distinctive Progen 'thumb design' grips. You'll pay £69.95 for graphite shafts and £10 less for steel.
There are also anti-slice offset metalwoods for right-handers only. The Full Bore 2.3 driver with graphite shaft (10.5 deg loft) costs £99.95 and the 3- to 7-wood fairway metals £69.95 (Graphite) and £59.95 (steel).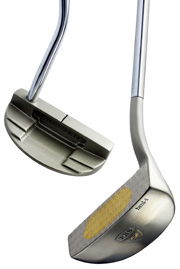 Progen PBS putters.
Progen has also produced a range of putters. Top of the range is the stainless steel PBS with a brass insert (£49.95) in five models, but for right-handers only.
The polymer face-insert Black-I (£34.95) and stainless steel head Gemini (£29.95) each have five right-hand and one left-hand model, with different hosels and offsets.
For further information call 0113 3877710 or visit www.progengolf.com.