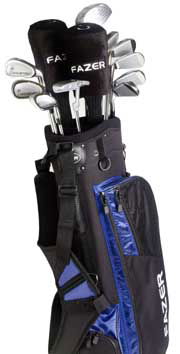 Fazer Contender pack
If you're looking for a birthday or Christmas present for a family member who's considering taking up golf or a retirement gift for someone with time on his (or her) hands, Fazer has just the thing.
Aimed at those taking their first tentative steps on the golfing ladder, the Leeds-based budget clubmakers have introduced Contender 'box sets' for men and women.
The men's 16-piece set includes a 400cc driver (10.5 deg loft), 3- and 5-wood (with graphite shafts and head covers), 4- to sand wedge (8 irons) and a putter. It also features a stand bag with 8-inch wide top, graphite friendly dividers, pockets, umbrella holder and dual strap for comfy carrying.
The women's version (the Lady Contender) includes one less iron, (5- to SW) but features graphite-shafted 3-, 5- and 7-wood (with furry headcovers), easy-align putter and five-pocket trolley bag with rain hood and velvet-lined pouch for valuables.
With graphite-shafted irons, each package costs £199 (£179 for men's steel shafts) but make sure you discover which side the recipient plans to stand to the ball. They're only available for right-handers.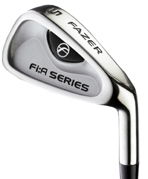 Fazer's FiA Series iron.
In my younger days – well, 20 years ago, - I was a bit of a Fazer fan and bought a red-shafted 'Hot stick' 5-wood which stayed with me for some time. With its flame-engraved sole, it was years ahead of its time.
And with all the talk of hot-faced drivers, Fazer has introduced the Hot-1 Titanium driver, with a 400cc head and deep face. It's yours for £49.95 but beware, it's right-hand drive only!
If you prefer a driving iron off the tee, Fazer's Oversize club, with 16-degree loft and thick cambered sole might be a versatile club to suit at £39.95. It is also available with a steel shaft (£29.95), has a Tour wrap grip and comes in right and left-hand models.
The Fazer FiA Series oversize irons (3-SW) will set you back £149 with graphite shafts and £129 with steel. They are good-looking mirror finish clubs with more weight concentrated low behind the sweet spot to help get the ball airborne. Right-hand only.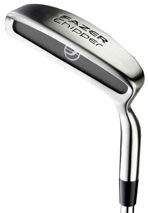 The reliable Chipper.
Fazer were among the fore-runners of the modern Chipper. And for those who can't get to grips with shots from the fringe have introduced an updated club with a stainless steel head at £19.95.
Two putters complete the range – the Duosphere mallet with polymer insert and the Triosphere 'elongated mallet' with distinctive alignment markings. Both cost £39.95, right-hand only with black or grey finish.
For your nearest dealer call 0113 387 7710 or visit www.fazer.com.