Not content to merely target macho male golfers looking for more distance, TaylorMade is introducing three new clubs for women.
The R580W driver and fairway metals and women's Rescue Mid clubs are already in the hands of top professionals on the LPGA and Evian Ladies Tours, and now specially-shafted versions will be available for committed club golfers.
Says TM's Sean Toulon: "For committed women golfers, these clubs are the ultimate. Each incorporates performance technology proven to help a player hit the ball longer and straighter and with greater ease."
The R580W driver has been engineered for avid women golfers who generate a swingspeed of up to 80 mph. Features include a 350cc titanium clubhead, for greater confidence and forgiveness, Cone technology for consistent length and lower, deeper centre of gravity to help get the ball airborne easier.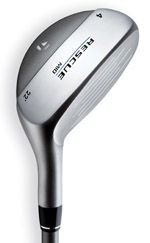 Rescue Mid – for damsels in distress!
The MAS2-50 lightweight shaft encourages a faster swing. It's available, from December 15, with a 12 degree loft at £349.
The 3-, 5- and 7-wood R580 fairway metals have similar features, for higher trajectory and longer carry with a broad sole for a more powerful contact from a variety of lies. They will cost from £299 each.
Because long irons are difficult to hit consistently, the women's Rescue Mid, has been designed for damsel's in distress! Available with 19, 22 and 25 degree lofts, it is designed to combine high launch with high spin, long carry and maximum stopping power. They will sell at £139 each.