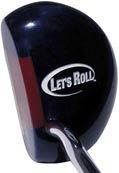 'Let's Roll' putter.
In honour of Todd Beamer, the American passenger on Flight 93, who led the fightback again terrorists threatening to crash the plane into the the Presidential White House, Louisville Golfis to make a limited edition putter.
Mr Beamer was overheard giving the rallying call "Are you ready? Let's roll!" to other passengers on September 11 last year and a percentage of sales from the 3,043 putters made – one for every victim of the terrorist attacks on Flight 93, the World Trade Centre towers and the Pentagon – will go to the Todd Beamer Foundation, to aid his children and future victims of terrorism.
Louisville Golf, is the world's leading manufacturer of wooden-headed golf equipment says the 'Let's Roll' logo is laser etched on the crown of the solid Maple mallet putter, stained in an America Blue finish.
It also features a specially designed red, white and blue Winn grip. The putter's suggested retail price in the US is $195 but for a limited time, numbered putters will be offered at the introductory price of $125.
Said Louisville golf's president, Mike Just: "We are extremely proud to be partnered with the Beamer Foundation in offering this putter to honour what Todd Beamer stood for. We hope we inspire people to remember his heroic acts. We need to continue to memorialise his actions for future generations; that is what this putter is all about."