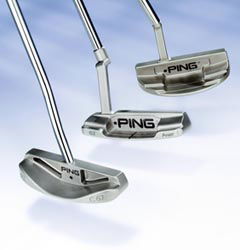 Ping's G2 range – from the left, Piper C, Anser and C67.
Ping has given its putters a facelift. Some have been given a make over and others are brand new designs to be released next month.
They range from the £85 Ping G2 series to the tournament quality Ping JAS group of putters costing £325 - probably the most expensive on the market. Ping is also launching custom-fitted Ping Specify clubs from £130.
There are 16 putters in the G2 range, most of them second generation models tried and tested specifications, which have stood the test of time.
Some of Ping's most popular Ping putters over the years - including the Anser, Pal, B60, Zing and My Day, which have earned more than 1,000 Tour victories in 35 years - were given a make-over, improving the inertia weighting by up to 20 percent.
"We've increased the inertia by design, as well as adding mass to the G2 putters. We've also lowered the centre of gravity, creating more forgiveness and better roll," says John K Solheim, Ping's vice-president.
"This means they have clean, square lines for easy set-up which will help golfers with alignment at address and getting their putts started at the target." There's also a rectangular hosel to minimise what the golfer sees at address and Karsten Etched grip.
Among the new models are the centre-shafted C67, the (Zing Straight Back (ZSB), mallet-style Piper and the Tessa - a heel-shafted blade.
The new series of JAS putters claim to maximise putter weighting, moved more toward the heel and toe as well as lower in the club face so that the golf ball will roll as true as possible when putted. They are forged from a softer feeling grade of titanium for maximum feel. They'd better be good at that price!
Ping Specify putters will take customisation of putter building to the next level," says Mr Solheim. Golfers can have three different putter body styles, four different hosels and three putter weights.