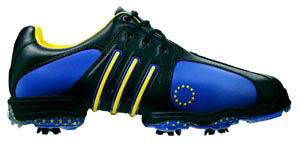 adidas Euro shoe
If you are feeling patriotic around the time of the Ryder Cup you may wish to invest in a par of the special edition adidas 360 Tour shoes being launched for the occasion.
Already available in a variety of colour combinations, the shoes have been given added spice with the introduction of special colour schemes for Europe and the USA, which is bidding to regain the trophy for the first time since 1999.
The US version has a white upper, the distinctive navy 360 wrap, which envelopes the mid-foot and three red stripes on each side. 'USA' is emblazoned on the upper while red stars are scattered across the sole. The European model has a blue upper, black 360 wrap and the three stripes on the sides are yellow. A circle of gold stars is also featured on the upper with gold stars also clearly visible on the sole.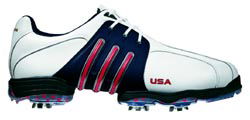 adidas USA shoe
Both options are available at a select list of adidas retail outlets from mid-August, costing £119.99 a pair.
*Tell us about the shoes you wear - as well as the balls and clubs, you use – by submitting a user review
Golfmagic has over 3,000 items of equipment reviewed within its system, many of which golfers use to consider their purchases. Most, too, can be bought from our shopping partners, which are listed on the left-hand side of every page.