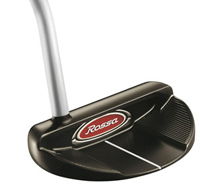 Monte Carlo putter as used by Justin Rose
TaylorMade Golf has introduced five new putters created by and named after Master putter-creator Kia Ma, a Vietnamese, who's revered among Tour pros for his designs.His talent for applying the exact degree of heat needed to bend a shaft to the precise amount of curve or angle became legendary and six years ago he joined TaylorMade, and has been instrumental in elevating the company's putter stature.In the past, Kia Ma putters have been reserved for TaylorMade Tour Staff pros, including Sergio Garcia who recently won the Castello Masters and HSBC Champions Rossa TP by Kia Ma putters, painstakingly honed by Ma's expert eye will be available for all golfers.The line consists of three blades – Daytona, Monaco and Imola - and two mallets – Monte Carlo and Maranello. Each is CNC-milled from soft 1020 carbon steel and finished in a rich, midnight blue. Daytona and Monaco models also feature six tungsten weights embedded into the rear."These Kia Ma putters are guaranteed to appeal to the golf purist who loves classic design and flawless execution," said Bill Price, TaylorMade's senior director of putter creation. "Every surface is satiny smooth and every curve and corner is perfectly rendered. Their straightforward shaping makes them easy to look at and aim, and they feel fantastic. When you pick one of these putters up you realise right away the person who created it is someone special."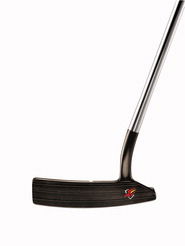 Face of Garcia's Daytona putter
On the PGA and European Tour this season, the Rossa TP by Kia Ma line was also put in play by TaylorMade-adidas professionals Justin Rose (Monte Carlo), Andres Romero (Daytona), Paul McGinley (Daytona) and Garcia (Daytona)."Tour players constantly pass comment on the balance, feel and look of the Kia Ma putters" said TaylorMade Tour representative Matt Blackey. "Players fully appreciate the attention to detail and high quality craftsmanship that goes into each putter and it is very exciting that golfers of all levels can now play the same putters the players on Tour are all talking about."Rossa TP by Kia Ma putters will be available from mid-January at a recommended retail price of £219.